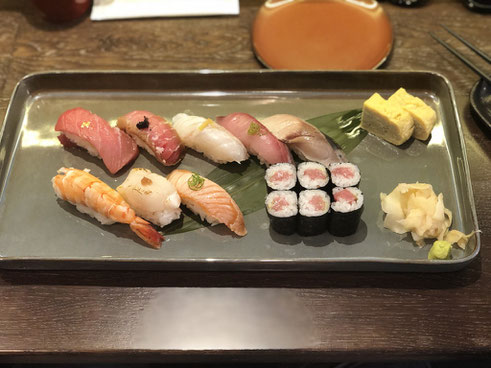 New Sushi kid in town but I've kinda lost it outta my sight but Lars reminded me that they have opened. It's been a little over a month now, so I guess I'm not too late. It's Sunday and I want to take a last stroll over the Rheinkirmes but I need something to eat first. Going through various options in my head I remember Lars' hint and I take a ride to Luegallee. It's very close to the Kirmeswiesen, so it's actually very convenient for me.
Strolling past you will notice the little terrace and two big windows facing the street with two small tables where two people each can find a place. I make a note in my head that this is a nice spot for a dinner for two. When you enter the restaurant it has a modern appeal. It's clean with a slightly darker touch but comfortable. Typically Japanese design with clear lines and a tidy look.
I walk past most of the tables and sit down at the counter right across the Sushi chef and have a good look at his handy work. The counter is unusually low, so you can actually peek at the cutting board and the hands directly which is a new sight for me. At least from this perspective.
A quick glance at the menu shows a lot of the things that you would expect to find in a Sushi restaurant. Some interesting side dishes but nothing out of the ordinary. In hindsight I think I should have gone for the special miso soup. It is done with a homemade dashi, so it's interesting to see by how far it actually affects the taste. The price is quite steep though.
After I order I have ample time to watch and observe what the chef is doing and as you might be able to tell from the picture the sushi is very good. I wasn't fully convinced by the rice and the fish was good but not outstanding. I left the regular tuna piece for last and it blew me away. Amongst the best I have had in the ranks of Nagomi and Yabase. Fish is a tricky thing and mind you I was there on a Sunday so it couldn't have been the freshest of all qualities. I will definitely come back to validate my first experiences and for the special miso.
06 Aug 2020
---