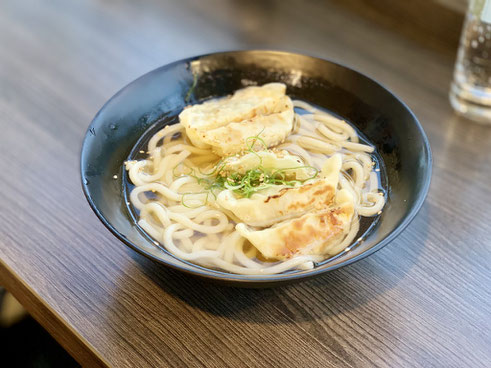 Hit n' Run at the Maruyasu on Immermannstrasse. First time I've been to this one although I know Maruyasu, of course. I've picked up Lars and his daughter and we're havin' a quick lunch. The inside is quite modern and has a very clean style which appears almost clinic. There's a big counter to your left when you enter while you have to walk all the way to the end to order. You'll get a buzzer when the food is ready and you can pick it up at the adjacent counter.
The food is fair value I guess while the quality is okay. It is very simple. I have Gyoza Udon with mediocre Gyoza that don't seem to be self-made but I might be wrong. The noodles are ok and the stock is clean, clear and straight with no depth or finesse whatsoever. It does the job but nothing to remember. At 7,90€ I can't really complain since it's not junk and it's not expensive either. Then again the only thing of value in that Udon is the five pieces of Gyoza.
Service is non-existent and the ladies behind the counter can't even find a smile or at least fake politeness. Very poor! I know why I don't come here. Mediocre food, bad service, zero atmosphere. But it's the cheap food that drives people into places like this. The sushi was never of good quality and while Maruyasu might be a "brand" in Düsseldorf, for me personally it is one to avoid.