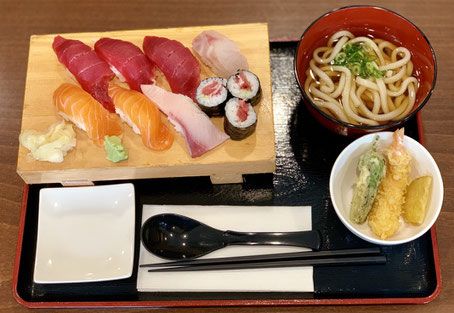 09 Dec 2017
Going to Yabase always takes me back. Way back in fact since it's probably the first Japanese restaurant I have visited. Back then it was with my parents, of course. And although the interior has changed a few times (maybe three) it still feels the same. Admittedly the furniture hasn't changed much. And by interior I am speaking mostly of where the Sushi bar is located in that venue. However, I cannot help it and feel somewhat home in that restaurant. Countless times when my parents kinda dragged me there as a kid when I still refused Sushi and had nothing but Tonkatsu, Tori Teriyaki and Zaru Soba. And just an occasional Tempura Udon.
Much has changed since then and I adore the Japanese cuisine. And I love coming here since it's still one of the best Japanese places in town. Furthermore I love it because of the vast range of food they offer without compromising quality. 
This was just a rather quick lunch and I keep thinking that I should go and have a full blown meal some time again. And maybe I will...
17 Feb 2018
Lunch at Yabase after a long night.
Not much to say about Yabase as I have before. But Nabeyaki Udon is climbing up the ladder on my anti-hangover food list. Tempura shrimp and Futomaki on top this is also a very good way to start into a new day after a very long night.
24 Mar 2018
Long time, no see. The Japanese answer to the Schnitzel. Panko panade, signature sauce and freshly cut coleslaw. This always takes me back to my early childhood days when my parents took me to that place. Way back when I didn't eat any fish or vegetables. So while my parents were having delicious sushi, I was basically ordering Udon, Soba, Yakitori and Tonkatsu all the time. No, not all at once.
And even though this dish is probably not one of the more complex dishes I still love it deeply. I don't have it that often anymore as I mostly decide on something sushi but I have been wanting to have this for a very long time now. Try it. It probably won't blow your mind but if you like a good Schnitzel then this is just another interesting and legit way of having it.
31 Mar 2018
I have written and visited the Yabase numerous times. It's probably one of my most visited restaurants after the Takumi and the 485 Grad. I had a craving for Sushi and where to get it better on a Saturday afternoon than at Yabase. Regular Sushi platter with Tekka Hoso Maki on the side. I was hungry after running 9km. It took quite a bit until the food finally appeared but it was delicious. Somehow the craftsmanship also suffers when you come in late after rush hour. The food is still exceptional but it has become a nuisance lately. Check it out anyway. Still one of the best Sushi places in town.
01 May 2018
Hard to find words when you've written so many times about this place. Yes, because I come here that often. And Nabeyaki Udon is kinda becoming my new Ramen. I was hungry so I ordered a California Roll on top. It was a grand breakfast.
It looks good bht I wonder why they still serve the Ebi Tempura on top of the Udon. The whole Panko panade just gets soaked and soft and mushy. On the side would be much more convenient. .
06 Oct 2018
They have weaker days. Especially when you go after the lunch rush and they have to prepare your sushi à la minute. That's when their craftsmanship gets really sloppy. If it wasn't the Yabase I wouldn't be so forgiving. And taste and value wise the Nabeyaki Udon with sushi set is still unparalleled. 
13 Dec 2018
Prep meeting with the guys from Strassenküche Torsten Huelsmann is with Antonio Buntenkötter and would like some tips for Hong Kong. Well, since Hans was in town I thought it might be a good idea to bring them together and see what's what.
Grand lunch with Sashimi galore and some Tempura. Gotta love that place. It's no coincidence I love coming here. Networking at the Yabase also very much possible. 😉
25 Jan 2019
I'm sorry if some places show up so many times. Especially when I don't have to say much more about them. But it'a just that I love sushi and that even though there are many places to choose from, there are only a few places to consider when it comes down to actually go for it. Best quality, affordable, open is what the Yabase describes best. I also love the Nagomi but opening hours are a little bit difficult here. And they still need to work on their exhaust fume system.
Busy-ness lunch with Christine at lunch time and I go for one of their lunch sets. As most of the time. Which reminds me that I need to come here again and have a proper Japanese dinner.
The Yabase has been an institution for more than 30 years now. I wonder if it's closer to or even over 40. They were pioneers back then alongside the Kikaku. When Germans knew raw fish only from their beloved "Fischbrötchen" but otherwise found it rather peculiar. When Kimonos were only known from movies and Karate was still red hot and exotic. Only adventurers dared to enter the restaurants that were almost exclusively attended by Asian folk. And suddenly in Germany, you were the odd one out as a Caucasian. Times have changed. The sushi hasn't. And it's a good thing!
10 Apr 2019
Lunch with my parents at the restaurant that I most vividly remember from my childhood days. We have come here for lunches for as a long as I can remember. We haven't seen each other in a while which is mostly my fault and we agree on grabbing some sushi at the Yabase.
It's busy and it takes a while until the food arrives. It's not the largest sashimi plate I have seen there but the tuna today is out of this world. Wow! Still remains one of the best sushi places in town.
21 Sep 2019
Since I have written many times about the Yabase I won't go into too much food detail here, except that I was hungry and yes, I had both dishes. The regular sushi plate and the Nabeyaki Udon.
My parents and I meet here ever so often. It's a place that they have enjoyed for as long as I can think of. It's one of the first restaurants I can remember they took me to. Well, at least regularly. The Yabase's has been in Düsseldorf for more than 30 years now and it was one of the first Japanese restaurants to open here. It's hard to believe when you think about the big Japanese community here and that now we have all these different types of Japanese restaurants available. Back then, sushi was exotic. And the Germans didn't really approve of raw fish on rice. How times have changed, looking at the long lines in front of ramen joints and cosplayers coming from all over Europe when it's Japan Day in Düsseldorf. Japan is Düsseldorf and vice versa. So self-evident today.
Back when my parents took me here, I didn't eat any kind of sushi. In fact, my parents always had chirashi sushi and I was feeding on Tonkatsu, miso soup and tori teriyaki. For a very long time.
Coming here with my parents feels surreal. This restaurant has practically accompanied me for my whole life. I took my ex-girlfriend here and introduced her to Japanese cuisine as she had never had it before. But even that is 16 years ago now.
So yes, I am not always satisfied with the craftsmanship they display here. Under the old sushi master that type of sloppiness would have never been possible. But there is a deep and long lasting connection between me and this place and I've only come to realize now how deep-rooted this bond actually is.
More than three decades later I am sitting here with my parents and have lunch. And I wish I could have it for 30 more. But they are in their 70s now. If things go right we will still have these types of lunches for a while. In any case, thank you Yabase!
27 Nov 2019
Having lunch with my parents again and which place would be more fitting than the one that we have been going to for almost as long as the place exists. It's a workout day and I am really hungry since I haven't had anything before I went to the gym. Instead of picking anything from their lunch menu, I go for the classic Nabeyaki Udon and Sushi Set and order some tempura on top.
26 Aug 2020
---