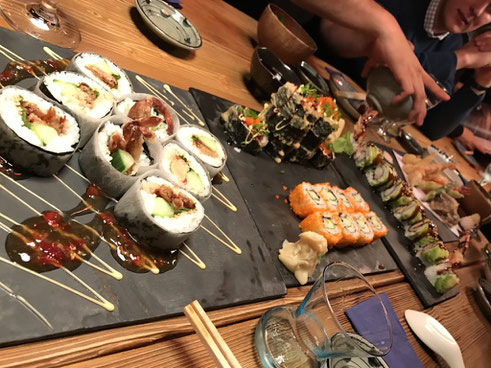 The sumi. has come to stay in Derendorf and is successful offering sushi and its signature sushi rolls in the area. The cozy little corner restaurant is very well frequented and you should make a reservation when deciding to come here. A good friend and I are on a schedule as we are heading out to a concert and our table needs to be cleared by 8pm anyway.
To be honest, I have to admit that I am not a particular fan of these creative sushi roll creations but they are indeed good here. In the past I have come here more regularly, especially with friends as you can always cut across the whole menu and just throw everything in the middle to share. Which is still a good idea.
Due to other circumstances we share just a few things and among them the sashimi plate. While the quality of the fish is good, I really do not agree with the pricing on some of the items on the menu. The meat has always been overpriced but this was difficult to swallow. The rolls are still fair but I am really having trouble with the wild range of quality price ratio.
Don't get me wrong, it is still a very nice place to go to and the staff was worse in the past. But I cannot help but have a bitter taste when thinking about the check.
19 Jan 2019
After a disappointing experience at the sumi. last time, I wanted to give it another shot and invited a friend for dinner to see what's what. This time it was all signature rolls again and to make it very short they did not disappoint. You have to be quick with the volcano roll as the salmon will continue to cook in the roll and I prefer it rawer. The rolls are carefully crafted and the volcano roll looks like a tiny volcano with roe lava on top. The dragon roll is carefully wrapped in avocado and the pattern of changing yellow and green even appear to be dragon skin scales. The entrecote in the sumi roll is still pink on the inside and perfectly cured while the crunchy tempura coat gives the texture and mouth feel an extra kick.
It is settled then. If you come here, you have to go for the sushi rolls. The rest isn't bad at all but there are just better spots to have sushi or yakiniku. Even more affordable and better. But it's a perfect spot when you crave some more creative sushi rolls and want to throw everything in the middle of the table and just order the whole menu to share with your friends.
---