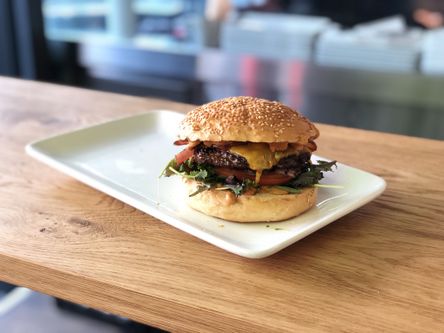 Quick lunch at the Steakschmiede. The burger freak I am I have never had a burger here. Rock solid I'd say with a tasty patty and decent buns. 9,90€ is a fair deal but you need to pay your fries on top. Quick and dirty. Recommendation.
13 Apr 2018
Don't have to lose a lot of words about either Steakschmiede or Carlsplatz. I love them both and it's always good to see one of the boys whether it's Bene, Alex or Eddy. Astounding what they have achieved in such a short amount of time and I can only observe as a spectator gaping with my mouth open and hoping not to drool at all the great meat they offer. These guys made butchers sexy again. And all the others who are complaining take a good look at what these guys do. And they're not cheap. So, no not everybody is buying meat at Aldi nowadays. I sure as hell don't. And with their lovely little grill right next to their raw delicacies they have enriched the Carlsplatz by a mile. Hats off and all the success in the world!
28 Jun 2018
Having lunch with my colleagues and what's better than to get out to Carlsplatz and enjoy the sun which is a rare visitor in Germany.
Satisfying my craving for a burger at the Steakschmiede. I like the truffle mayonnaise in particular which is freshly made and not perfumed. Truffles do have a tendency to cover up all types of scents and sometimes even flavors. Especially when use of truffle oil has been exaggerated.
The patty is well done which is a no no for me. I know for a fact that they sometimes do not use fresh patties and take them out of the freezer. Can't tell if that was the case but whether it was a frozen patty or a fresh one grilled to shit makes only a minor difference to me. But it was tasty and it fulfilled my needs, so I will not be bickering about that.
---