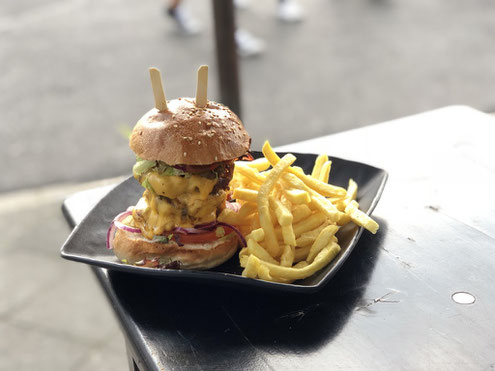 Long time, no see. I haven't been at RnR for quite a while now for varying reasons. I still remember when it started out as one of the first new style burger joints in Düsseldorf and it did well in Unterbilk. As time went by problems rose and were severe as burgers were well done and fries hard as stone on a regular basis. Even when there were almost no other guests around. That was the point I started to avoid the RnR until it finally closed down a couple of years back. And I wasn't surprised at all
In the meantime the RnR in Oberkassel opened but I never bothered to pay it a visit as it was quite far off and the last visits obviously more than disappointing.
I am meeting Daniel and we have some time before we head to the cinema and we sit down outside on their little terrace. It is located right at Belsenplatz and you couldn't find a much better spot in this part of town. The serve us at the table and we get ready to order. Well, my friend ordered well done and I don't know whether or not that affected my burger which I certainly did not want that way. The fries are ok and the quality of the products seem good. The buns are soft and tasty, salads and veggies are fresh but the patty is dead. The texture and the taste however lead me to the conclusion that it's not as bad as my last visits at their original joint.
While the look is somewhat the same and hipster type it definitely lacks the charm of the old location. Light is flooding the whole place through the big windows leaving it with a less "industrial" type feel.
As we spend most of the time outside, I haven't taken a real look at the interior. 
The burgers seem decent although I don't know if it was just bad luck that my one was deep-grilled, too. While it wasn't that bad it wasn't good enough to lure me out from the other side of the Rhine to get some junk food. There are better options on my side of town.
---