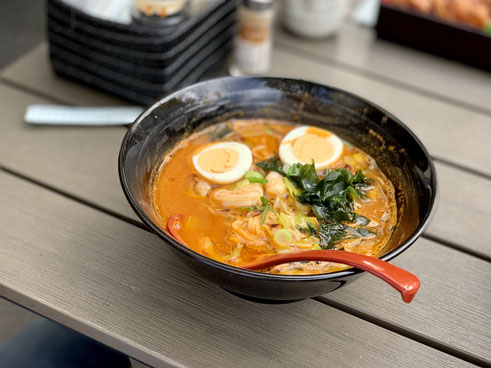 This place has eluded me for a while and I remember cruisin' past it and thinkin' that it might be worth giving it a try. So, I call up on my partner in lunch Lars to go and give it a shot for a dine and dash. It's a beautiful summer day so we decide to sit outside so I can't say much about the interior.
The variety of the menu is vast and I am going back and forth between sushi and having a ramen and I choose the latter with a little chicken starter.
The chicken is very good. Tender and soft with crispy skin and perfect seasoning. Honestly, I haven't had chicken this good in ages.
As for the Ramen, well, the stock was ok I guess but definitely lacking depth and complexity and appeared unbalanced in seasoning. Regular hard-boiled egg and good noodles. All in all I wouldn't go for it again here.
I need to come back and take a look at the other dishes though. They are the only Japanese place in this area (except for eat TOKYO) so it might be an option if you're going out in that vicinity. However I would always opt for a place near Klosterstrasse.
---