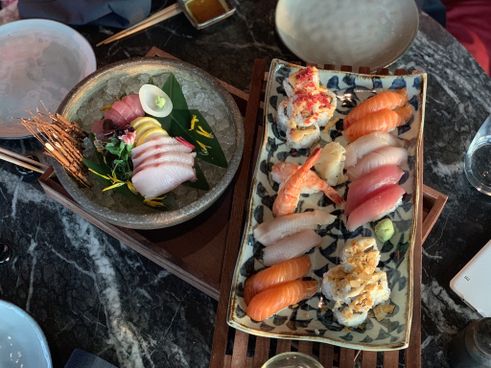 First dinner at the QOMO. It's my father's birthday and my mother has heard about the new restaurant up in the Rheinturm. Ever since I read that there would be a Japanese type restaurant in the tower I wanted to go up there. Which is more due to the fact that the restaurant before that had a mixed reputation.
Elevator management for restaurant visitors could be improved as I arrive on time and have to wait in line for 20 minutes since there are a lot of tourists that want to go up for the bar/sightseeing point. Once up in the restaurant I welcomed and we are guided to our table. The first thing I notice is that the place really looks good, even in broad daylight. A modern and simplistic look with heavy chairs and dark tables. At night time the place looks even better as the lamps and the whole lighting concept with the ceiling design come to full expression.
There are no course menus so we cut across the menu and everything lands in the middle of the table.
As for pure sushi quality there are definitely better options. I like everything except the tuna and the prawn (nigiri) - dry. Salmon quality is very high but the tuna is in fact very disappointing. At these prices I do not tolerate a very light colored (Ahi) tuna. Texture and taste weren't up to top standard. You can even see on the picture that this tuna is not top notch. The California rolls are very poorly cut and reveals poor craftsmanship or maybe stress but again at these prices it's tough to tolerate sloppily cut rolls.
On the plus side the California rolls are very tasty and very well composed with the veggie roll (Garden) being outstandingly good. The Tuna Tataki suffers from the poor tuna quality but the soy dressing and the pea puree were fantastic with it. So good in fact that the Mackerel Carpaccio suffers and the truffle ponzu sauce falls a little short while delicious.
So, would I come here purely for the food? Probably not. The restaurant is very well decorated, with good food and a view that is simply priceless but the tag is steep. Everyone who is from this area though should have done it at least once. After that, you decide. For me personally more of an ABC location. Anniversaries, birthdays and Christmas.
---