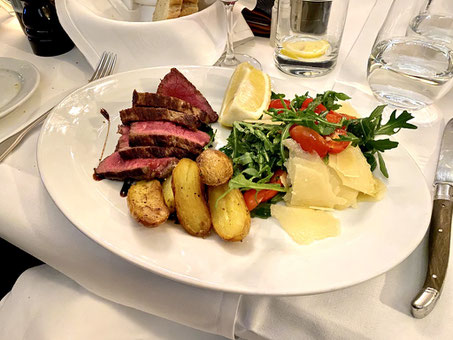 It's that time of year again when I meet with my old school friends and we have our Good Fellaz night out. This time it's the Prinzinger in Oberkassel. Classic Italian cuisine. It is located in a beautiful building on the corner of Luegallee and Leostrasse. It doesn't stop there as the interior is really pretty, too. White table cloths, a stuccoed ceiling and a pleasant ambient lighting. Sure looks like a classic Italian place with aspiration.
It's a busy night as it's Valentine's day even though we don't see too many tables for two but the service is attentive, friendly and fast. My selection for the night is pretty classic as well as I go for burrata with Datterino tomatoes on rocket salad and pine nuts. For the main course tagliata (Fassone beef) with rocket, cherry tomatoes, parmesan cheese, rosemary potatoes and balsamico. Last but not least a tiramisu.
Overall quality is good and they certainly pride themselves with the products they use. However the dishes fail to convince completely. While it's not bad at all I expected a little more. The tagliata is slightly undercooked but I didn't complain as I wanted to have dinner with my friends together. It doesn't give off that all Italian feel and although the sides are nice they wouldn't have been necessary if the meat was more convincing. I really don't give a rat's ass where it came from as long as it's good. This one is in fact a bit chewy but with good taste overall. Still, I don't think I would order it again there. The burrata was good yet again I definitely had better. The tomatoes didn't stick in my memory either. While they were juicy and more intense in taste it was nothing worth remembering. Tiramisu was good but it's hard to rate these. Can't complain but sometimes a certain idea of a dish gets branded into your brain and you try to recreate that memory but it rarely happens. Beautiful place with good service and proper food and fair prices. But in the end I don't think I will come back in the near future.
---