The Tour de Menu in Düsseldorf has started by courtesy of Mr. Düsseldorf I was asked if I could check out their new "Quick Lunch" format and I was invited to hit the relatively new Pastalicious right in the vicinity of the Carlsplatz. It's been there since April last year and I have passed it numerous times but never when I was actually looking for something to eat. I had it on my backburner-list somewhere behind my restaurants-to-visit-list. Which was probably the reason why I never made it there.
When you get to the place you slide through the door and find that the place actually is that small. There are only three tables so they must mainly concentrate on the to-go business. The front display with their variety of different homemade pasta which mainly stays the same. Only a few positions change from time to time whenever the owner comes up with a new idea and wants to try something out. The place is tiny and you can't really move around much between the massive counter and the rest of the place. Some details try to make the place look a little cozier. On warmer days there is the possibility to sit outside. The two or three bigger tables outside hold more seating space than the whole joint itself.
The food was ok but needs little improvements here and there and more confident seasoning.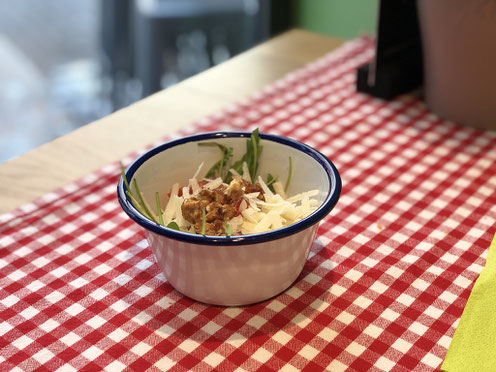 ---