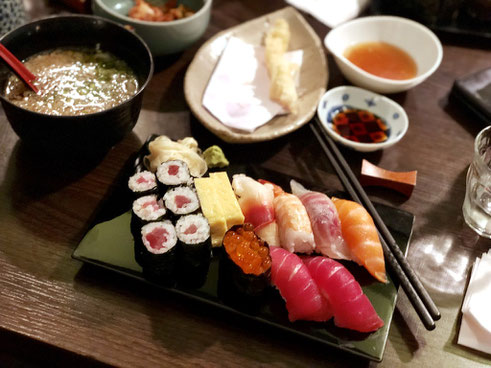 Most people forget or don't even know that there is another Naniwa. And it serves mostly Sushi instead of Ramen. It's right across the street but I don't come here as often as I used to. I remember that value for money was very good when it first started. Being younger then money sure was an issue and so naturally I looked for value Sushi more than I do nowadays.
A lot has changed since they opened up shop. Interestingly it has become more cozy with more (green) color and a sofa in the front window as waiting area.
Fortunately, we don't have to wait even though it's lunch prime time and we get a small table in the depths of the restaurant.
We quickly decide on Sushi sets and some Ebi Tempura and Kimuchi on the side.
The Kimuchi tastes actually more like Korean Kimchi as the seasoning is spicier and stronger than expected. The Tempura is ok and fair value. Not too greasy and fried on point with a crunchy Tempura breading. The Sushi is still good and fair value on principle. However the tuna is sliced like carpaccio for the Nigiri. The white in between you can see on the picture is not fat but rice shining through because the tuna is so thin and split. I understand economic pressure and the will to save money on purchased goods but this is just a shame. If I order Nigiri I want a proper slice of fish on my rice. Not in excess but not a slice of carpaccio either. I have very little understanding for this type of behavior. And I really don't care if the restaurant was low on tuna that day. The guest should never have to pay the price for bad or even mishap planning.
Sorry to see this! Sorry to have to say this! I always had a heart for that spot. The place has always been successful and does not need to stoop so low and cater such practices. I will come back to check again and hopefully find a regular set again.
03 Jul 2019
Still a decent place while their Makis are probably better than their classic Nigiri. However this used to be a value-for-money place but the prices have disproportionately increased the past years. So, I can't even say it's a great deal you're getting let alone that it's cheap. You can definitely have better Sushi for the money.
However and this is relevant to only a small group of people. But as Iris pointed out the declaration of allergens in this restaurant is impeccable and lucid. So, if you suffer any type of allergy or have some other food restriction it is very easy to find out whether or not you can eat one dish or not. Not meaning that they necessarily have a vast range of dishes that you can choose from depending on your allergy or intolerance. Still it doesn't need a lot of asking back and forth if a dish contains one of the ingredients that you might not want/can have in your meal.
---