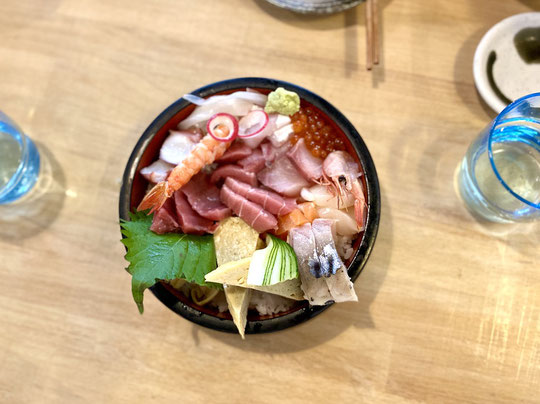 Time has passed again since I was here last time. Sophia is in town and she is craving for some Sushi and since she knows the Yabase I take her to the Nagomi. The last feedbacks I got were rather mixed while when Sebastian Bordthäuser likes it, I can't be off by a mile. I like the clean and minimalistic interior but my companion disagrees. However I don't agree that the Yabase is cozier but then again it seems to be a matter of preference.
Yes, smell and stir fry is still an issue here the open kitchen is very neat to look at as you can watch the whole crew and the creation process but it leaves too much space for unwanted odors to fill the room.
I stand by my review and still find it is the best Sushi in town although I've had better here. The Renkon chips are tasty but fried too dark and deep and the Nigiri seem to have become smaller. Apart from that I can't complain. Prices are still the same and the red Miso soup is still looking for its rival. The eggplant in Miso sauce was out for the night which was the real pity.
Still great! A Kirin and full to the lower lip we leave the restaurant.
28 Jul 2020
---