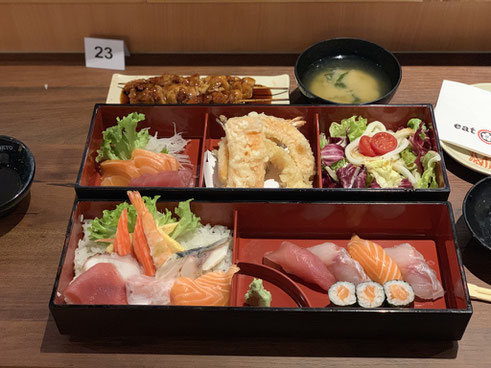 So, my wine merchant was here as it was recommended to him and him and some others were agreeing that EatTokyo is a good place to go and have Sushi. My first impression was way different but irritated by his comments I thought I'd give it another shot.
Holy shit!
What should I say? Let's start on a positive note. It is probably the restaurant with the best price quality ratio. The amounts of food you get are simply ridiculous. Ridiculously large I should say. And here lies the problem or should I say the solution? If you hand out food in these quantities for a low price the quality of the product cannot be good. Call it maths, science, logic or common sense. It is impossible. Is it edible? More than just that. The fish quality is not bad. Taste is okay, texture is good up until the point where you have to start chewing and you will find it chewy indeed. The rice is plain bad and compressed into bricks. The tempura is okay but a little on the greasy side, miso shiro is solid and the salad with udon would have been ok if it weren't for the completely overcooked noodles. The teriyaki sticks are (surprise) very large with big chunks of chicken meat. Meat quality is ok and it is cooked ok but drowned in very liquid teriyaki sauce. Again for 3,80EUR you won't feel robbed but in the end it's not good. It is tasty and and you get a lot for your money but tori teriyaki actually has to be tender and soft and is normally sliced into smaller pieces and almost melts in your mouth with a reduced teriyaki sauce. This does not.
No bashing here as I still find it is a fair deal. I paid <20EUR and rolled out of the place. What you get is very fair for the money and the concept is successful and I understand why. But I insist that this is not grand Japanese cuisine. How could it be? It's not even supposed to be. At the same time it's so much better than many of the other garbage concepts that are out there. And I dare you to take the 27,50EUR you need to spend at Okinii and I promise you will not leave less full when coming to eatTokyo while receiving a way better quality. And yes, I HATE all you can eat concepts!