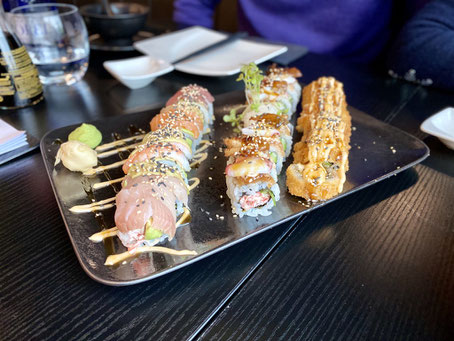 It's my birthday and my parents and I head out for a little birthday lunch. I wanted to check out the DEN as it came recommended by two friends of mine and I am always up for a good Japanese place.
It is located right in the new suburb of Grafental but officially it's still Flingern. I've never been here in this area but I am surprised about how many apartment blocks they've built here in the past couple of years. In one of the new buildings you can find the DEN.
The place looks a bit pretentious and it's smaller than you would guess if you've seen pictures on the internet.
As expected there are not too many guests as it is the time between Christmas and NYE. Additionally, it's lunch time and there are not too many people walking around here that you could lure into this space by chance. It might be different outside of Christmas time as there are a couple of offices around but really I don't know.
The nicest thing to say is that the service was friendly and trying really hard. The rest is a bit of a train wreck. The fish quality is okay at best. The rice is a particularly tasteless and tough companion. The sashimi salad is definitely not something that I would recommend to anyone as it is bland and very poorly put together. Everybody loves these California rolls these days. You can cover up almost anything but you can't hide poor fish quality and the whole plate just looks like a mess as if a 3 year-old had a field day on it. Except for the fried roll the other two rolls were stone cold which points to the fact some of the ingredients were just pulled out of the fridge or even worse the freezer. When asked about it our friendly waiter answers that some of the ingredients indeed come out of the fridge. Which is not necessarily a problem but you can't just serve it like that. After our first round we order a couple of nigiri because we are still hungry. Big mistake as it turns out. The kitchen is busy preparing all the take away food and we end up waiting for almost an hour for 6(!) nigiri. Fail! And no, the coffee on the house does not make up for the bad organization in the kitchen. A little heads-up would have been nice, too. The mochi is store bought and of mediocre quality. All in all this has been a disaster. Sorry, folks! Never coming back.