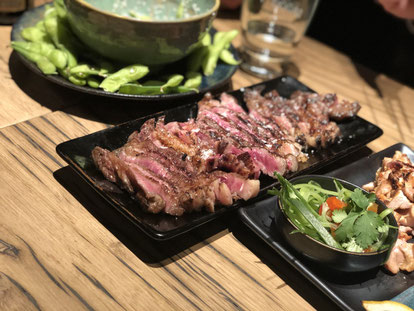 First time at the Zweigleisig in Düsseldorf. Fusian but at a higher level. Explanation of the concept is a little intricate. Don't overthink it and don't make it complicated. Smaller dishes and you need more. Dim sum or Tapas style. Whatever you're more familiar with. 
The place is modern and stylish and the huge sprayed geisha is glaring from the wall. Clean style with a big open kitchen and an impressive grill station where you can watch every move of the chefs.
Overall quality is good while dishes themselves are not all that surprising. Definitely good food but you soon realize that the evening is going to be more expensive than the first glance at the menu made you believe. To be fair service said right from the start that you will need about three to four "courses". Unfortunately not ultimately convincing so I'd rather stick to the more conventional Japanese restaurants. Price-wise no difference but I prefer the cleaner traditional style when it comes to Sushi. While the rest and more South-East-Asia-oriented food has a good level of quality, it still doesn't make me come back for exactly those dishes. Still definitely worth a visit even though it will get crowded and noisy. On a plus side the wine list is decent. 
---
02 Feb 2018
Another visit at the Zweigleisig in Düsseldorf. The meat dishes are better than the fish dishes. Txogitxu, pork belly and chicken were on top. Spare ribs were tasty, too. Sashimi and rolls were ok but if you want stuff like that you'd better hit other places.