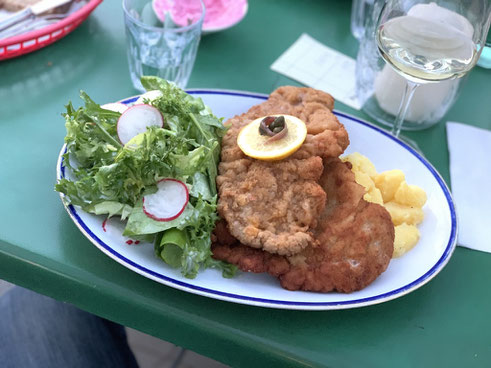 Going into the long Easter Weekend I have picked up Lars at the LaVinesse and we decide to go the Sennhütte. I haven't been here in quite a while but there are very few places that are more charming than this one. More Berlin is not possible. And I mean this in a good way. As many of you might know, I hate Berlin. I have passed this place countless times when I drove to Düsseldorf with my parents. And it used to be not more than a shed that was closed all the time. Even back then it had its own charm but I never thought it would be possible to turn it into a successful business. If you had asked me before to invest in this place, I wouldn't have given 100 EUR. Good thing I never became an investor. Little did I know that this place would not only survive but thrive. Under the creative leadership of Ines and Stephie this would become one of the hippest places in Düsseldorf. I just love the somewhat trashy interior while keeping a very cozy and warm feel to it. With a lovely terrace in front and another terrace looking down at the train tracks.
The wine list is more than just acceptable and holds numerous positions you wouldn't expect in a place like this. The kitchen is good. Not fine dining, not top notch but rock solid. Simple dishes on good quality level that will fill your stomach but also let you enjoy your plate. I've had the Wiener Schnitzel and boy I couldn't move for an hour at least. And it was delicious, too. And it has become quite hard to get a decent Schnitzel here in Düsseldorf.
The Zündkerzen (spark plugs) shots have achieved cult status (43 Liquor, with espresso and cream on top). Come here early on a sunny day, to even have a tiny chance at getting a table somewhere. The service is friendly and trying their best to keep up with the thirsty crowd. Sometimes you need to be patient but it's not easy to service this place that stretches over two terraces, two floors and narrow stairways that could actually compete with streets in any centro storico in Tuscany.
Beautiful place and successful! Rightfully so. Amazing to see what Ines and Stephie have created here. I definitely recommend. coming here.
---