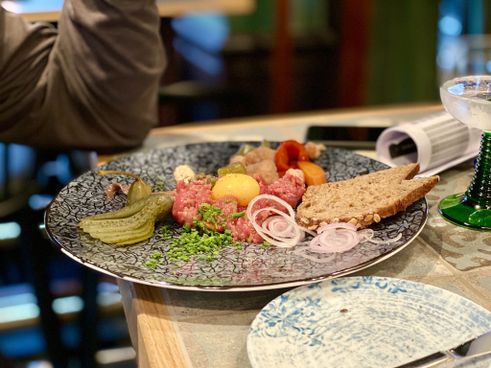 After the Vinaturel Roadshow in Bochum Christoph, Sebastian and a couple of Sebastian's friends head over to the Zum Grünen Gaul. We need something real to eat and we'd love to have some wines. I didn't really know what to expect but I know I can rely on Sebastian, so when we enter it is indeed a green place. Modern yet traditional with a long table in the middle of the front room and a big bar to the left. We take a seat at the biggest table and order a round of food.
Beef tartare, House platter and pork belly. Well, of course I had the house plate with a pork cutlet, Weisswurst, German ravioli and mashed potatoes. It's not fine dining but it's pretty darn good. Good seasoning with very good products. Loved the German ravioli for their texture and the dough. Just what I needed after a long afternoon of wine and as a prep meal for some wines to come.
Lovely place and their second part of the restaurant looks really nice, too. It has an impressive lighted ceiling leaving in a dark atmosphere. Many details all over the restaurant that make you fall in love with the interior.
Thank you for taking us, Sebastian! It's a great place and a very good meal at fair prices! Will travel to Bochum for this one.
---