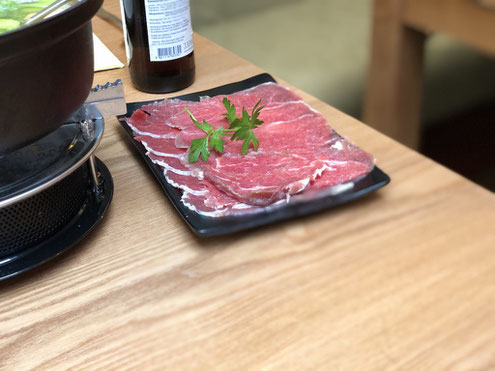 The name of this place is clearly Korean while the sign outside states they serve Sukiyaki which is in fact Japanese. You should always become skeptical about these kinds of mix ups because more often than not they are an indicator that you should choose another place. The restaurant is new in Düsseldorf and my crew and I decide to skip the homemade Cesar Salad and give the new kid in town a shot. A friendly barman of oriental descent greets us and an East Asian leads the way inside the modern place with a minimalistic style. We sit down at the very far end where there is even a small backyard.
We order our usual Korean go to dishes and, of course, Sukiyaki since it seems to be the signature. Every table holds a grill and/or a hole to facilitate a pot for a stew.
That's when it becomes a little awkward. I try to order in Korean but the waiter obviously doesn't respond and is confused while keeping his composure and friendly responding in German. I don't think that Koreans are the only ones in the world who can prepare Korean food as goes for any other ethnic food. But this is still the second indicator that the experience might not be like you want it to be.
Typically Korean, the Banchan (반찬) are on the house and are delivered first. All of the single dishes are actually good and tasty so that we have high hopes for what is yet to come.
Unfortunately the main dishes could not keep up with the small ones. A lack of proper seasoning and depth was missing to each dish. And while the Sukiyaki stock is decent, the composition in total can't convince us. Pity, Sukiyaki if done right can be a truly fantastic thing. Nice try but it needs some serious work at the core.
---