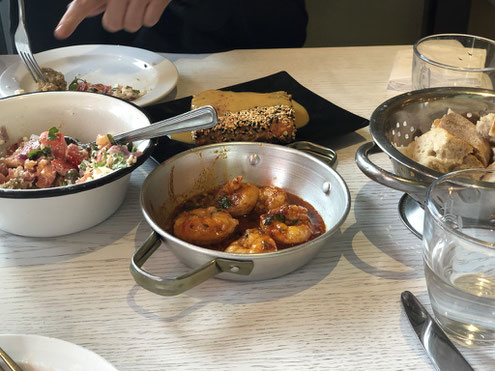 The inner city of Bochum is empty and it shouldn't come as a surprise. Not because I know Bochum very well. In fact I haven't been here for ages. But it is Sunday, the weather is mediocre and the Football World Championship has taken over the country. Especially when it's game day for Germany.
We've spent the afternoon at the Porto Bocho summer event which was a little different than what we had expected. Nevertheless we met some interesting people: winemakers, winelovers, Chris (which I had not met in person before) and last but not least Stavros. Stavros is the owner of the Yamas Mezé and after the match, we walk over to check out the place.
The terrace holds numerous tables and seats and once you get inside you have a big bar on the right and easily the same amount of seats inside the place. The look and feel is Mediterranean but I wouldn't be able to pinpoint it to Greece. But this is where we're at. Yamas! One way of saying cheers in Greece.
We take the table right in front of the large open window and I let Sophia decide what to eat since I am really not an expert on Greek cuisine and she just recently took a trip to Athens. Dakos salad, fried prawns, sesame coated feta and zucchini pancakes is what we go for. Nice little cross cut through Greek appetizers. This is so much better than what you would usually expect. It's fresh, it's simple, it's good. Everything that I desire most.
There is a well struck balance between the base products, seasoning and herbs. It certainly has its own style and you can taste it's not a coincidence. While I can't say much about Greek cuisine since I don't know the first thing about it, except for the occasional trip to the local Gyros supplier, I know as much about food that I recognize when it's good and when it's done right. And this is the case here.
---