Fischerstrasse 1, Düsseldorf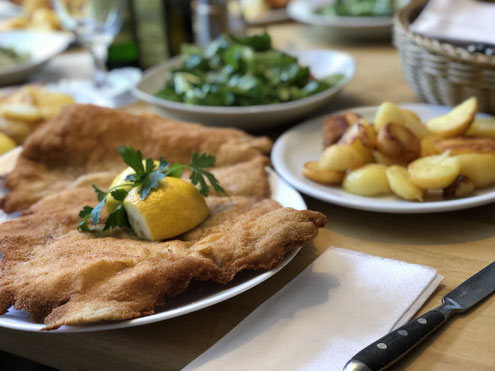 Wiener Schnitzel at Wirtshaus Poldi in Düsseldorf
My kinda breakfast after a very long night. This guy is an institution in Düsseldorf and yet I have never been there before. The restaurant looks quite funky but you mustn't be thrown off by the rather peculiar interior. Poldi himself is cult, walking around at age 87 in his butcher's coat as ever.
Pricing is kept very simple and the size of the Schnitzel is ginormous. Probably one of the best Wiener Schnitzel in town at low cost. I promise you won't leave hungry. And who doesn't love a good Wiener?
Of course, it's veal with a good panade which throws your typical bubbles. The potato chips are fried in pork fat and the salads are fresh and homemade. I'm actually wondering why I never got here before... Easy recommendation for Schnitzel lovers.
18 Aug 2018
Benchmark time. Wiener Schnitzel against Tonkatsu. It was Zonk's suggestion to come here before we head out to a smaller wine tour. The last time we were here nobody knew where Poldi was. And he was supposed to come in any minute. Mind you that was at 2pm while the restaurant opens at 12.
The price is more than fair still but I think I definitely had better Schnitzel. Even if they cost more money.
The thing with this place is, while you can let the kitschy interior and the guy in the labcoat that never seems to change, the service is on the edge and the side dishes are ok at best.
I ordered fried potatoes which were "out" but funny thing that they came to a table right next to me 20 minutes after they were supposedly not available. The whole experience this time was except for the Schnitzel a rather disappointing one and quite the opposite from my first visit. Probably I was a little over-enthusiastic. So for a full-blown Schnitzel it's still a decent place while I have my reservations now about the rest. Needless to say there wasn't enough small change to return when we wanted to pay.
Funky experience!
---