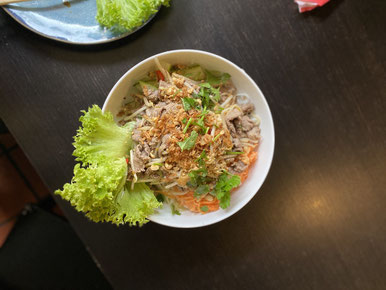 Quick snacks before we head out to the soccer game. Alex and I agree on the Vietnam Street Food (yes, that's how the place is called). And when you enter the place it looks a little like a scene from South East Asia. It's gotta be the modern interpretation of what people did way back when. Somehow I like the Disneyland character while this the low budget version. Well, it's "street food". 
I refrain from the Pho and go with Bun Bo Xa Ot and some spring rolls and Alex has Banh Canh Xao with prawns as far as I remember. I really enjoyed the spring rolls with some extra crispy and fine rice sheets and above average filling. Our main dishes are quite large and I would have renounced my spring rolls if I had known how big the portions are. 
Apart from the quantity I receive fresh ingredients and a tasty base sauce and tender beef. Not a revelation by any sense but still far better than I had actually expected. A good balanced mix of fresh veggies, rice noodles, beef and sauce.
It actually makes me want to come back and see what's what. So far good job! Good and friendly service, too. 
---