Klosterstrasse 34, Düsseldorf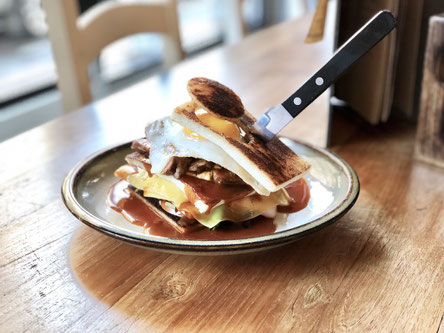 I've wanted to come to this place for years now and I still haven't made it really. It is somewhat a curse that if I know the chef personally that it takes me longer to actually pay him a visit. So, sorry Bastian but I promise to visit NENIO AND U das Restaurant this year for a full menu! It's on my to-do list for 2018.
So, I start with a little lunch at U because this is easier to handle and to fit in. Portugal weeks and what we see is a Sandwich Francesinho with Iberico Secreto. Umami and a straight punch into your face. Just what I was looking for after a rather wild tasting and the super bowl the night before. No, it wasn't a highly refined and deep and possible Michelin star dish but it wasn't supposed to be. And that's a good thing. It's Bastian's interpretation of a sandwich that could be actually Portuguese while using high quality products and combining them to a quite hefty yet delicious dish. A tad too much sauce for me personally but finger-licking good.
It's a very fair deal for 19€ with a small starter and dessert and a glass of water. Pay it a visit because it's definitely worth it. And people in the neighborhood fortunately appreciate the crammy little place. It's cozy and with a variety of Stullen (German sandwiches) and even cake for your afternoon tea (or coffee whichever you prefer). And of course some serious dishes and a 6-course chef's choice menu for 69€.
Definitely not my last lunch here as I will try to explore what chef Bastian Falkenroth has to offer on different topics. Your palate will never be bored that's for sure!
Definite recommendation! 
21 Apr 2018
I had an "appointment" with Michelin star chef Bastian Falkenroth at his first restaurant the "U". Still a little hung over from the night before I got up and swung myself into my car, opened the roof and enjoyed the sun that we all longed for in Germany for so many months.
I drove by the restaurant and saw Basti already sitting outside on his little terrace and embracing the few hours of sunlight that the Klosterstraße holds as the sun would soon disappear behind the tall buildings on the opposing side. After I found a parking spot nearby, I finally joined him in the sun and ordered what I came for.
I have been craving Egg Benedict for quite some time now and there are not too many places that actually offer them. Mostly hotels have them for their international guests with varying quality. I am not a breakfast guy and at the weekends I mostly skip breakfast or as many of you might know I have "breakfast" at Takumi. But I love Egg Benedict or poached eggs in general for that matter and find it rather disappointing that there is no poached egg culture here in Germany. It is all about scrambled, boiled or fried eggs.
What a relief and a proper breakfast. Basti's style is a little different as he poaches the eggs sous-vide which gives the egg a slightly different texture. It is a tad creamier and the sleeve is softer. High product quality all around with a tasty slice of bread and you gotta love these tomatoes. Sad that you actually have to emphasize that the cherry tomatoes were exceptional which says a lot about the state of tomatoes that you can get here in Germany. I had salmon on the side instead of bacon which was slightly grilled, not dry but juicy and tasty.
Prices are fair but not cheap. Common knowledge that good products cost money and that craftsmanship also has to be paid. Prices for the egg "Benedict-style" range from 10-19EUR, the most expensive one being a luxury lobster version. Breakfast is offered from 10-16h and it will definitely add another option to my usual weekend program.
Thank you, Basti for your hospitality!!!
04 May 2018
Asparagus season. And Basti, of course, adapted and offers a nice range of lunch dishes with white asparagus. The Germans truly are crazy about it. I had quite the night before so I tended to his version of Schnitzel with the aforementioned vegetable. Hands down one of the best Schnitzel I had in the last couple of months. Crunchy, crispy panade with tender pork. A through and through elegant composition in U style. Umami yet complex and perfectly balanced. I enjoyed this with my friend Lars in the sun while Basti unfortunately was recovering from his evening with Nic Weis and Meyer-Näkel. Must've been a feast! I salute you.
Lunch deal for 20€ and a great way to kick-off the weekend.
25 Jan 2019
Bastian Falkenroth is in and I decide to pay him a visit. I meet with Fabian there and Christian also shows up to join the party. We talk a little about Basti's new concept Goldgelb Sylt that will be opening soon and a couple of bottles are shared while I am still on #dryjanuary . So, I just have a little dessert instead and stick to cappuccino, water and lemonade.
The dessert is a delicious composition of white chocolate mousse, cassis and orange and just what I needed. The chocolate crumble dust gives it a little crunch and adds to the complexity of the texture. It's not overly sweet and I especially love the orange filets that add some freshness and rounds off the dessert in whole. Good job from Mark Reckmann and his crew!
17 Mar 2019
Second to last night at the U and I booked a table weeks in advance to celebrate the ProWein with Hans and some other friends. Unfortunately Hans is indisposed and all the other guys cancelled last minute. So, it's dinner for two with Theresa and a couple of Lena's old friends.
We have a wonderful menu created by Bastian Falkenroth and Mark Reckmann and have some wines with the crew. Unfortunately the U. Das Restaurant and NENIO will be closing Tuesday. And as much it is a loss gastronomically for Düsseldorf, it is a much bigger loss personally for me with Lena and Bastian entirely retreating to Sylt and following their new project Goldgelb Sylt. The decision is more than reasonable and I am sure it is all well thought through but it's just sad to see them leave completely.
Anyhow, standstill is falling behind and life is a rollercoaster, so let's enjoy the ride! I wish you guys all the best for your new baby and that all your hopes and dreams may materialize and that you will be as successful and welcomed on Sylt as you were here in Düsseldorf. Good luck and all the best!