Kaiserswerther Strasse 77, Düsseldorf
 +49 211 5136579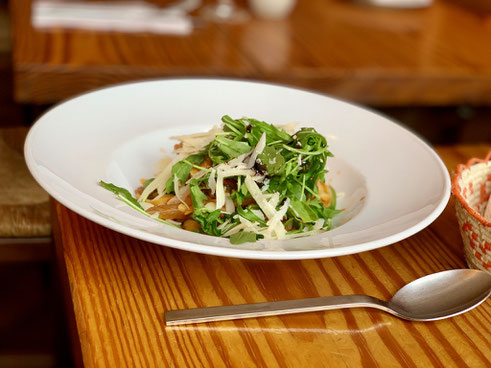 Lunch time and Lars suggests a couple of Italian places and I go for the S'Aposentu. I've never been here and I am trying to discover more new places this year. Call it New Year's resolutions or whatever. In 2018 I was able to check 22 "new" places off my restaurant bucket list in Düsseldorf. Let's see if I can break that record this year.
The S'Aposentu is located in a more residential area and you probably won't pass it by chance.  Nevertheless the location is nice and has huge windows with a view on what appears like a park but it's just a random green strip that is somehow left over.
The interior could be described as rustic and the furniture probably is still the furniture they installed when they set up shop. I like the bar and the display counter on your right hand side when you enter the room. What you can see in the counter is kinda sad though and could be pepped up with little effort but be it as it may.
The place is crowded for lunch time and I am surprised. A table for two right next to the window is still free and I decide to take it and observe the restaurant area. The high ceiling, the big windows and the wooden floor are things that I like immediately. Really not so sure about the coloring of the whole place and it could use an upgrade here and there. The object itself is almost perfect for a restaurant and creates a cozy atmosphere even though it is basically one large room.
When I try to order the Malloreddus with Sardinian salsiccia the waiter tells us it is unfortunately not available because the salsiccia hasn't been delivered. He makes a suggestion to take taglierini with beef  filet tips which we agree on. The pasta is good and I like the tomato sauce with hints of garlic and a proper tomato flavor. The filet is of mediocre quality and cooked to shit and therefore chewy. Still very tasty and the prices are fair.
Sadly while the owner might be from Sardinia the cuisine is not. They have some Sardinian specials sometimes but the menu looks like a solid Italian menu. Which is fine but it would have been a little more interesting to see a more unique offering.
---