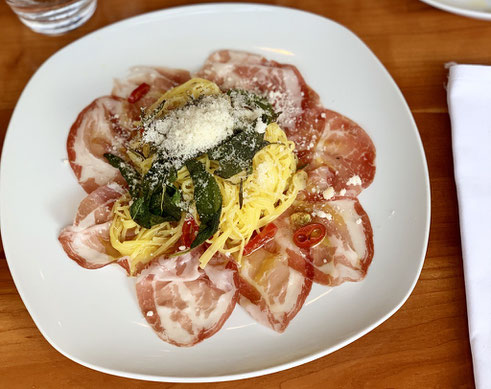 Lunch time with Lars and he suggests the La Castagnas. I have never heard of this place but I usually trust Lars when he picks up on something. It's in no way a secret or a new spot but I am rarely in that area and for some reason I distrust a lot of Italian places.
Upon entering you will pass a display of Antipasti and then find a spacious room with big windows and a lot of old-fashioned brown. The wooden furniture is a bit out of style but it still fits.
We sit at one of the window tables as there are not a lot of other guests in the restaurant.
Taglierini AOP on coppa. Simple yet so delicious, so Italian. It is very tasty and the pasta is perfectly al dente. The staff is very friendly and helpful and I just love the rock solid style that they seem to pursue. I will have to come back to get a better picture but from what I have tasted it makes you want to try and taste more. A very good indication of where the journey will take you. This rarely happens by chance. Looking forward to my next visit.
30 May 2019
Theresa is craving some pasta and so we hit the Trattoria La Castagnas. I've been here twice for lunch and it never disappointed and this dinner is no exception. For starters I have the mixed antipasti. Tasty with stronger and weaker components, so not sure whether or not I would order it like this again. But the pasta is just fabulous. Simple but yet so good. Carpaccio bed with olive oil and fried herbs, tomatoes and garlic in perfect harmony. This place is growing on me as it delivers constantly on a high level with an authentic Italian taste. I thought there weren't many good Italian places in Düsseldorf but it seems I have been missing out on quite a few in the past. The trouble is not find them but to tell them apart as too many people will have too many differing opinions. Unfortunately it's not always based on food quality and taste alone.
Fortunately there are more good places and there is still room to discover.
---