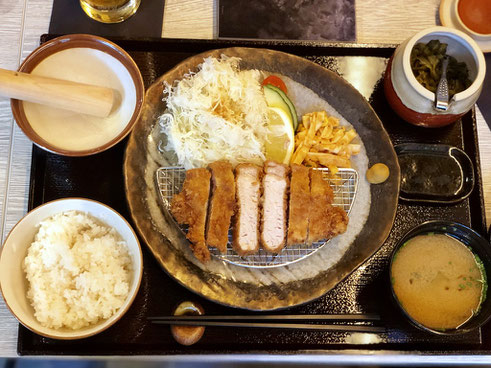 There's a new Japanese kid in town and it serves one of my fondest childhood memories. Ever since I have heard about this place I was keen on coming here. I. Love. Tonkatsu. The Japanese version of the "Schnitzel Wiener Art." Nowadays you can even get different cuts from the pork with the classic Panko panade. Sliced so you will get by with just chop sticks. Raw coleslaw on the side and Tonkatsu sauce. I haven't come across this variation where you grind sesame with your sauce to add to the taste.
When you enter the place it is a very modern look and feel with little traditional accents very well incorporated. I like the place already as it is cosy and Sabine, Kai and I find a table right at the front window.
I go for the full blown menu which is quite pricy at 28€ even with rice and my obligatory Miso soup. We're still talking about Tonkatsu here. Even if it's an olive-fed pork.
The set is lovely to look at especially with the little grille beneath the Tonkatsu and the mortar and pestle for the aforementioned sauce. I knew I would like it, almost no matter what but frankly I had expected a little more. The meat os tasty and soft but slightly overcooked and leaves a dry texture in the mouth. Since this is the big portion I would have expected a higher cut in order to make it even softer and jucier.
Taste-wise I can't complain but since the price tag is so high I expect perfection. Otherwise I can get it at Yabase perfectly fine and pay half. I will return since I love Tonkatsu and I like the interior. We'll see if my love to that place will hold.
05 Aug 2020
---