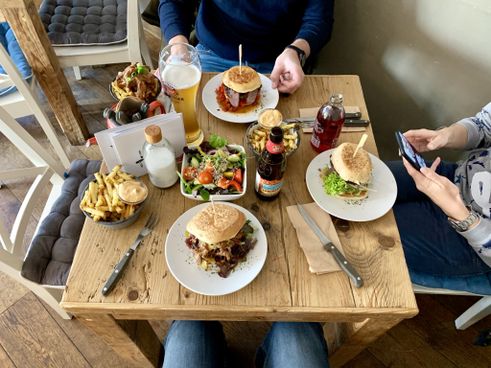 A day after our little orgy we crave some good hangover food and my friends decide to hit the Tofino in Essen. I've had my fair share of burgers in Düsseldorf but I never really went for them outside of town. So, I'm hungry and curious.
The restaurant is located in Rüttenscheid and on a cloudy day like this you would go past it and wonder where it is. It is inconspicuous and when you go inside it's a clean look with light wooden tables and a bar to the far right corner. So far, so burger.
They serve a different burger every month but I'll go for my bacon cheeseburger classic and have it garnered with jalapenos. The regular beers are neglectable but they have a nice and small selection of craft beers.
The buns are soft and tasty without soaking up all the juices and sauces. I don't think they were toasted on the insides but I might be wrong. The patty is what I expect from a proper burger. Good texture with umami taste, good seasoning and nice chew. The 200g is unexpectedly tall and I usually prefer my patties flatter and smashed but this one is actually good as it is. Unfortunately, it is not medium as ordered but well-done without being dry and dead but still they missed the degree. The fries are exceptional and they also serve a wide range of delicious homemade sauces. Thumbs up. Best fries I've had in a long time.
The service is very friendly and the place is filling up as we have our hangover meals. Sunday noon is a good time to come here. I learn that this place can be massively overcrowded during prime times. Very good burger indeed. If you're from Essen and don't know it yet, give it a shot!
10 Mar 2019
Hangover breakfast at the Tofino. Couldn't even eat it all as my stomach was still giving me the middle finger.
Big Cojones Burger with homemade fries and sauces. Patty is on point and the buns taste way better than they look. Lovely service again and delicious food. Shame I couldn't eat it all!
The Tofino is definitely one of the best burger joints I've been at in Germany. Lovin' it!