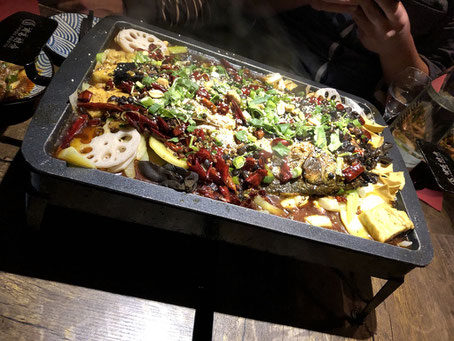 ExSum
There is another hidden Chinese (Szechuan) place which has opened on Stresemannstrasse. If you run past it the first time, don't be ashamed. Apart from two large windows and a wooden board with chinese characters nothing really points to this place. I even think that they added the "Three Kingdoms" English translation after a couple of months but I might be wrong. I do remember that I needed translation myself as I can't read Chinese and I didn't want to refer to the place as the Chinese restaurant on Stresemannstrasse with Chinese letters in front.
Inside you will find a modern decor with uncovered walls and interesting pipe-like lamps. The signature dish is grilled fish in a roasting dish with different selectable stocks. If you walk in there at night you won't see a table that does not feature one of those "tubs". There are many delicacies of various sizes, of course. All of which are typically seasoned Szechuan-style spicy. It's worth making a reservation and to share all the little dishes with a group of people. 
28 Dec 2017
This was a surprising trip. Unnoticed by the usual sources of food and more this little Chinese place has opened up shop. With a modern interior and more importantly a very well functioning ventilation system. There's only a Chinese sign by the door that states the name of this place and translates into "Three Kingdoms". Astoundingly well frequented with obviously a lot of Asian faces. And some Caucasians that did not seem lost or there by accident. Their specialty is the big pan with fish and different types of stocks and seasonings. Almost every single table had one of these standing atop. Apart from that you will find everything you very rarely dare to order. But you will also find more regular stuff but not a Peking duck or dim sums. The style is Szechuan and close to authentic. The chef seems to have a heart for Germans so it's not nearly as spicy as you might expect it to be. All in all very good food and dishes, well seasoned and good product quality. The price tag is more than affordable and it could become an insider place. If you like authentic Chinese food and not the usual cuisine that compromises on every end then you have come to the right place. Highly recommended!
21 Feb 2020
Nothing to report
---