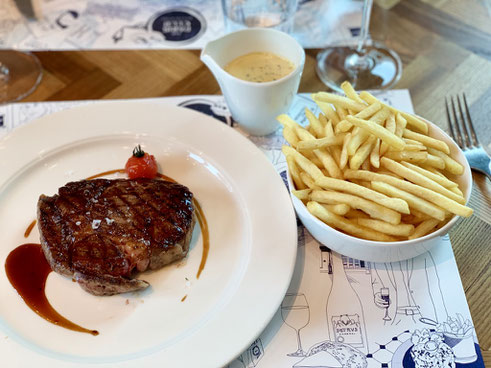 Lunch time with my parents and since I haven't been there myself I wanted to take the opportunity to show them the 25h Hotel and the view from the restaurant. I have seen the restaurant before on one of my numerous visits to the bar, so no real surprise there but definitely a different look during daylight. I still love the decoration and the interior but the carpet is even uglier in daylight. And the music is definitely too loud. Not only for my parents who are kinda sensitive when it comes to music in restaurants but even for me.
Back to the restaurant. It is Wednesday and it is very busy. I assumed it wouldn't be very well frequented but I was dead wrong. Most of the tables are occupied and the staff are doing some mileage. Yet they are very friendly and professional indeed. I start with the Bouillabaisse. The soup can be ordered as a starter or as a main course. The price is quite steep. One clam, one prawn and three pieces of salmon are not enough to justify the price tag. For the main I go for the Steak Frîtes. I know it's a boring dish but I just like to have it when I'm at a French type restaurant. My parents go for the meat strips with chanterelle and Swabian noodles from their special menu and Loup de Mer with risotto. My fries are very light in color but still crispy and tasty and my meat is on point. The risotto is good while the fish is slightly overcooked and Swabian noodles are very good but I begin to wonder why exactly you can find this dish in a French cuisine restaurant.
Mousse au chocolat blanche is fresh, fluffy and tasty and is perfectly supported by the strawberry sauce and crumbs. While my crème brûlée is good but nothing out of the ordinary. Maybe a little soft on the inside as I prefer a slightly firmer texture.
All in all a very nice visit at a good restaurant with a great view over Düsseldorf with relatively high pricing. I would recommend to make reservations in advance. Sweet spot to take out your girl and have drinks afterwards upstairs at the Paris Club. Ah right, the bar and the restaurant share the same name which is confusing to say the least.
26 Aug 2019
Hans has invited us to the Paris Club to enjoy some French cuisine and of course wine. Big out thank you, Hans!!! Let's get right into it. We start with the Petits Plats which are really small. We ordered the étagère; chanterelles et truffes, salads de moscardini and the crevettes sauvages. The dishes themselves were flawless but tiny and therefore not an option to share.
The crevetes sauvages poêlées have a lot of herbs and garlic, olive oil and piment d'espelette make it a joyful starter. While the prawns are all pre-cut so you can easily eat them with a fork and knife the intestines are still all inside which doesn't make much sense since you've opened them up anyway. Might as well just get that stuff out and in a place like this I would certainly expect them to do so.
I have the Loup de Mer which is slightly overcooked just like last time, so it doesn't seem to be just a coincidence. In fact the Boeuf braise was also slightly overcooked and the meat slightly dry. Two tartares, tartare du chef and tartare fromage. The classic tartare is very good with a good balance of acidity and capers and high meat quality. The tartare fromage resembles a German "Frikadelle" very much although I haven't heard any complaints. The fact that it was fried somehow came to a surprise to all of us.
Concluding the session with a homemade sorbet and a macaron we had some nice dishes but flawed nonetheless. The service was friendly and willing yet they appeared hopelessly overchallenged at times. Yes, the place was quite crowded but nevertheless the attentiveness and simple rules of service should be held in a place like this. Just one example of filling wine glasses almost full is a sign of ignorance. We know that it was a very warm day outside but the fact that the aircon was not able to cool the room down for another 2 or 3 degrees is simply ridiculous. Mind you, you can't even open windows up here.
Oh yeah, still criticizing that the restaurant and the bar hold the same name. Who's idea was that?
---