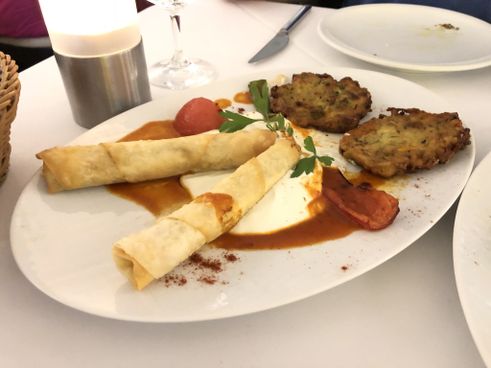 I have passed this restaurant many times but never actually thought about visiting it even though it looked inviting and the numerous stickers on their front door suggest that the food is not all that bad. It is Zonk's idea to try something new for a change and so I agree to hit the Bosporus before we move on to wine.
The restaurant is narrow but long with a clean look while maintaining a somewhat oriental atmosphere. To the right you will find a fresh fish counter with the "catch" of the day and it looks indeed fresh. When you walk to very end you will find another counter with their homemade creams and baklava.
After ordering we receive some fresh homemade bread which is still warm and the olive oil they have is tasty. The service up to this point is very friendly while the patron of the house seems to lose interest in us after taking our orders.
I go for mixed starters warm and cold. The cold ones are are creams only and to be eaten with the aforementioned bread. All fresh, all good! The warm ones are also good but nothing out of the ordinary. An attempt to make the plate look nice does not lift the quality. It is still good but somehow I have expected more even though the price for this plate is moderate. The creams and pastes seem slightly too high.
Good restaurant but you can't get rid of the feeling that everything's just a little too expensive even though quality is good.
---