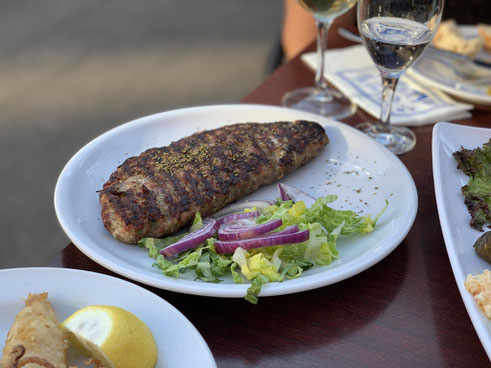 As if we didn't have enough food at Antichi Sapori already. But we're in the mood and we're craving some food. And while I personally mostly end up at one of the usual Koreans we go for Greek this time.
Savas is actually right around the corner from my home so I didn't intervene when the idea came up. .
Curious place. It is huge and looks like your regular Kneipe and it is open until the middle of the night and serves food till dawn (3am that Saturday which surprised me as I thought they served longer).
It is another one of those places where you don't expect much and given the location you are wondering how business is actually sustaining since the place is huge. But it has been there for quite some time now and their Greek food is way above average.
Since Nitza and Nina were with us we let them just set up the order and grabbed whatever they brought to the table.
Can't really review on a deeper level but the dishes were good, tasty and exactly what we needed at 3:30 in the morning. Always nice to drop by and grab some soul food. I should come here more often.
23 Mar 2019
When you get hungry in the middle of the night and you and your friends hit one of the best Greeks in town and it all ends in a food frenzy. A selection of things we had. Just amazing what they prepare until the middle of the night.
It's a crazy place and when it gets busy at the weekends, it almost feels like a little bit like Greece.
21 Apr 2019
Little Greek dinner at Taverne Savas before heading for a few bottles with Nadine and Ingo.
Our favorite Greek place which also happens to be in my neighborhood. Mixed starters, baby calamari, bifteki, souvlaki and homemade fries. First time I see this place by daylight and actually sit on their terrace. Wasn't the worst idea to come here. And have some food while not completely drunk in the middle of the night 😂 .
Simple but good! The place is well frequented despite its weird location and rightfully so.
27 Oct 2019
When it comes to midnight snacks this has probably become my third favorite place after YoGi and Pozangmatcha. After a night out with Christoph and the gang on what was supposed to be a calm and relaxed night, we find ourselves at Savas at 2:30am. It feels like I have been eating the whole day but yeah sometimes it just goes down like that. Since we all basically all had a proper dinner we went for some soul food. Interestingly one dish of calamari was better than the other. Great fried potatoes and cremes as always. And don't knock the sausage. Lovin' it every time here.
It's rustic and it's simple cuisine but when it comes to Greek cuisine I haven't found many alternatives yet here in Düsseldorf. Maybe I should look harder. Any one of you got any recommendations? Greek food is so much more than Gyros and Souvlaki.
06 Jun 2020
---