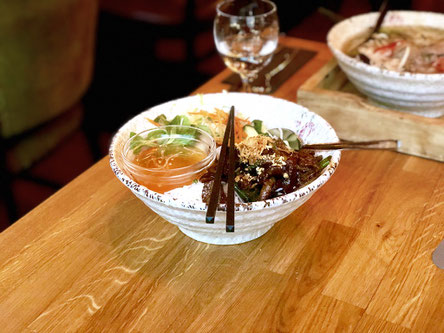 TAM TAM opened up shop in Flingern and since I was in the area and hungry anyway I took a shot. Vietnamese kitchen and a modern interior. Food was ok but does not necessarily stand out from most of the other more ambitious Vietnamese places. I am still missing that extra kick on seasoning and I am desperately looking for more depth in the stock of these Phos. It's not bad cooking and the ingredients are fresh but Vietnamese is just so much more than what you usually get here.
Don't get me wrong, I am not more Vietnamese than the actual ones here. In fact I am Korean but I came across some awesome dishes and (just like Korean cuisine by the way) Vietnamese here in Germany is just not where it's supposed to be. Honoring all effort and the best of resolutions.
So, would I recommend this place? It really depends. It's pretty average but don't expect it to be mind-blowing or THE best Vietnamese place in town. Good food, friendly service, nice atmosphere and underwhelming. Period.
---