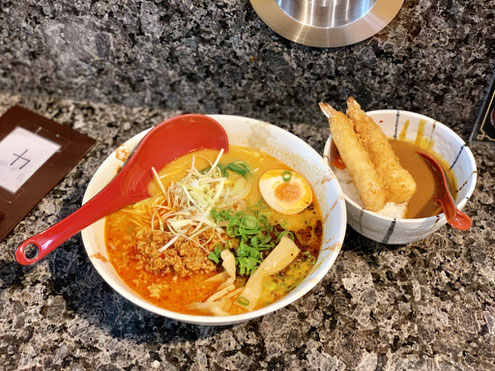 ExSum
The second Takumi restaurant was established in 2012 and is specialized on (who would've thought) tonkotsu ramen. It's the fourth flavor for ramen stocks which is not a flavor to be exact but 
also based on salt or soy sauce. Ground pork bones (Ton = pork, Kotsu = bones) are normally cooked for 12-15 hours until the collagen has dissolved into the stock in the form of gelatin. The rich and slightly white stock is different enough to be defined as the fourth flavor. The ground bones and the long cooking time classify the stock as tonkotsu. These creamy stocks have more depth, are rich in flavor and highly satiating. After one or two beers or glasses of wine too many the day before, this is probably the best hangover food.
04 Feb 2018
Not many words to lose about this one. It's probably my most visited place after the 485 Grad.
This time no Tantan Men but the Teriyaki Chicken Ramen. Lovin' it!
22 April 2018
Linus predicted it correctly the day before. Wasn't too hard though. I enjoyed my Sunday breakfast at 2pm. 
Needless to say that Takumi 1 was overcrowded again and a line standing lonely in front of the little outlet on Immermannstrasse. Still don't get people sometimes. 
Well, can't help everyone. 
30 Mar 2018
Red Tonkotsu. Mix it up a little and trying myself through the whole menu instead of having Tan Tan Men all the time 😂
02 Apr 2018
Obligatory stop. Teriyaki chicken Ramen with Tori Kara on the side.
Actually, wanted to go to Takumi 1 on Easter Monday but there was a line. At 4pm(!!!). It's insane. And got a seat at Takumi 2 right away. The world is crazy sometimes.
25 Oct 2018
I like this set add-on which I had for the first time. They should put it in the rotation more often. Tori kara with pickled and mildly spicy vegetables. Way to go.
07 May 2019
Hangover breakfast with Fabian and we haven't been here for a while. A couple of weeks back they closed shop for renovation, so it's a good time to check back and see what they have done.
...
Actually still not sure what they did. The place looks exactly the same as before. Unfortunately it was a bad Ramen day. Both Tantan Men were lukewarm, so we sent them back. The Ramen are taken away somewhat reluctantly but no arguing.
The second round was only slightly better but no need to send it twice. I am still very irritated by this experience as I am not sure what happened there. Maybe someone tampered with the temperature dial by accident. But after we returned the first round someone should have checked the actual temperature which was way too low.
Checking it off as a very bad day at the Takumi 2. Luckily/hopefully they don't have a lot of them!
Will come back again soon anyway as I can't stay away from my Ramen. Still somewhat disappointed as it has always been rock solid.
09 Jun 2019
After a long ride home I got hungry when I came from the airport and took a little detour on my way back home. Mala Ramen at Takumi 2. While all the other joints had hopelessly long queues in front Takumi 2 was at the ready. .
The Mala Ramen here is significantly different from the one you can order at the Takumi Chicken & Veggie. The Tonkotsu flavor is the main driver and the broth is in the typical manner. The mala spice is practically an add-on and also countered with some coriander. The Chashu here was new to me. For some reason I never order the Ramen with Chashu here. Big slices of fatty Japanese style ham which accompanied the Ramen just perfectly.
I still prefer the Mala Paitan at the Veggie & Chicken for its even more creamy texture and interestingly the chicken-based stock. Which is usually not the case. Still one of the better options on the menu when not resorting to the usual suspects.
22 Jul 2019
Haven't posted from here for a couple of weeks I guess. After a hefty weekend I am craving a good old ramen and find a spot immediately at garbage time. Thing is I believe that they are training their new staff in the afternoons, so quality and service suffers. I will have to keep an eye on it because this is the second time this happens to me here. The ramen takes long even though there is no obvious reason for it.
18 Aug 2019
After returning to Germany and a Grand Tour to Carinthia, I needed to find my sanctuary. We had lots grand wines, grand food and best of all a grand time together.
Now, for lunch I crave my good ol' ramen. And it's gotta be Tantan Men. What else? Comfort food. And a little balm for my tortured stomach 😂😂😂 Still my go-to place in Düssedorf and still my go-to ramen and it felt soo good!
01 Sep 2019
Yes, another obligatory Ramen. With all the wine going on, there is still no better food after a long night than Ramen. This time with a Teriyaki Miso Ramen. And an Asahi beer for a change. No need to lose many words on this as these posts come quite regularly. Absolutely reviving!
27 Oct 2019
Hitting Takumi 2 with Alex. Miso Tonkotsu, Tantan Men and Kara Age Curry (Set menu) and Octopus balls.
We came at the wrong time so we had to wait in line. And there's not a lot that I hate more than queuing up for food. Well, both Alex and I want Tonkotsu Ramen and this is basically the only place where you can get it.
So hate it or leave it and we go with hate it and wait like the other sheep 😂 But in the end it was worth it. At least this time.
03 Jan 2020
Coming back from my little trip to Carinthia, Austria the only thing that I am missing is my ramen. A balm for my stressed stomach. 
07 Jun 2020
21 Jun 2020 
29 Aug 2020
31 Aug 2020
---