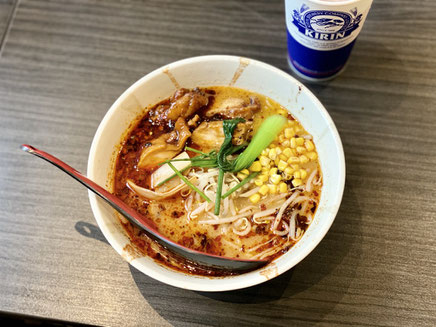 New ramen kid in town and guess what, I'm checking it out immediately. So, it's the Brickny group again and ever since they've posted a sign in the windows the whole neighborhood has been waiting for Takumi to open.
First of all, I really like what they've done with the place. Some nice effort especially when you know what the place has looked like under various owners the past 15 years. The style is certainly close to the other Chicken & Veggie on Klosterstraße with the blue tiles and grey panels on the wall. Finished off with some framed posters it has a clean look without giving off a sterile impression.
The menu today is massively shortened so we can only choose between two ramen, so spicy chicken ramen it is.. They have a big plancha where they prepare fried ramen which seems to be new. At least I can't remember whether or not they offer that at the other place. But since I am mostly interested in the noodle soups it shouldn't irritate me too much. The ramen itself delivers the quality you would expect from a Takumi place. Good stock with perfect ramen noodles, proper seasoning and tender chicken. All is well on the Lorettostraße. The service does a tremendous job. Especially when you take into consideration that this was the first day.
I will return for more since it's a tiny bit closer to my home than the other joints and it might be possible that you will be able to get a seat here more easily.
06 Oct 2019
It's Sunday and I am back at the Takumi in how far their menu has changed. Not by much to be honest. And no, it's not even close to the menu they have on Klosterstraße. I am actually surprised that this Takumi carries the same name as the focus once again seems to have shifted. Apart from the interior design there are only few commonalities. At this moment I am not even sure, if they even offer a true veggie stock. It is a rather small ramen selection but it will suffice. Not sure why you need to pay extra to make it spicy and the ajitama is 1,50 on top, too. Another common thing it seems a tad more expensive than the first two Takumi restaurants. Maybe it's just their way to increase overdue prices. But as suspected they seem to focus a little more on fried noodles and curries here which I personally don't need. Not here, not from Takumi and very rarely elsewhere.
The quality is high as you would expect it from them. What you see is a miso based teriyaki ramen. So, if you're in the area or want to avoid the long queues on Klosterstraße then you might be right here. Don't be mistaken though, I was sitting there on a Sunday evening and it quickly filled up during prime time in the evening. They won't serve to go, as they believe that their ramen need to be eaten right away in order to enjoy the full taste which I would agree on. Pasta to go is always one ride to the doors of hell. Never in my life have I had decent pasta to go. Let alone good.
It is still an enrichment for the Loretto quarter and I know a person or two that are really happy about the new Takumi now. For me, it will probably only play a side role.
23 Feb 2020
Nothing to report
---