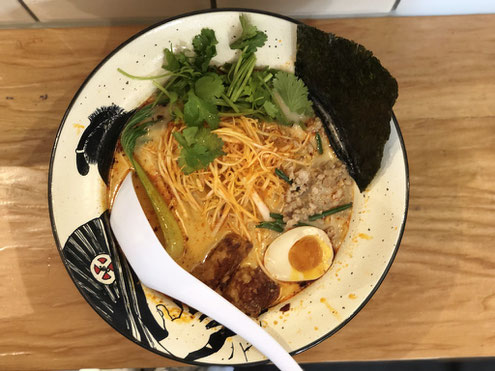 ExSum
Takumi Chicken & Veggie was established by late 2017 and the name is pretty self-explanatory. The stocks are based on chicken or vegetables so that even vegetarians can finally enjoy some ramen. The carnivores do not have to be afraid though. It's not all going to be without meat. The mala paitan ramen are absolutely fabulous with a creamy stock and mala. Mala is a mix of spices consisting of hot red peppers and szechuan pepper.
If you're not all that much into aromatic flavors you can opt for a yuzu shio ramen with a citrus note. There are even ramen for vegans based on a veggie stock with algae, whole-grain pasta and a tofu topping.  There is a ramen for every type of ramen lover. I'd recommend the mala gyoza as a side dish. Spicy mala which is counterbalanced by the fresh coriander. Simply delicious!
21 June 2018
It's Saturday and I am out for lunch. Actually, I wanted to go to Yabase and get some Sushi since there was going to be a bbq that night but there is a long line in front of it which is kinda unusual since it's already 2:30pm. I quickly decide to go to Takumi Veggie & Chicken which I haven't tested back after the first time I went there.
I've heard that their signature dish is very good so instead of benchmarking the Tantan Men again, I choose the Mala Paitan Ramen. The stock is cooked down longer and therefore there is much more intensity and depth. The smell is fabulous and the I like the taste. It definitely pays off to go through this process. 
The portion, again, seems a bit smaller in comparison to the other Takumi outlets while pricing is very similar. Still very good Ramen and definitely an option when the other joints are run over again.
22 Dec 2018
Quick lunch with the Bastian. He called me up and we went for some Ramen at Takumi. Mala Paitan is the name of the game and I tried the gyoza with coriander and spicy sauce for the first time. Thanks for letting me know, Basti! Great stuff! I could get used to Takumi 3 and the best thing is, you don't have to wait in line. Just drop by and sit down. People still haven't realized that you get the same quality Ramen here.
I have to admit that the menu is slightly different. So, all of the Takumis have their own unique proposition and it's entirely up to you what you prefer.
09 Feb 2019
It's been a while since I had Ramen. At least for my standards. Mala Paitan and some regular Gyoza because I used my voucher. I would have preferred the Mala coriander Gyoza but maybe next time.
Mala sauce is a Chinese chili sauce that is often used in Szechuan cuisine. Szechuan peppercorn, chili and various spices simmered with oil. And it works perfectly with both Ramen and Gyoza.
I love the creamy texture of the Paitan Ramen and it's just what I needed. The restaurant is shockingly crowded and I fear that it won't be long and you will have to wait in line outside of this place also. Bummer. So far, Takumi III has always been a refuge when all the other joints were hopelessly overcrowded. And although I grant them the success, it's also very discomforting to see business pick up here.
04 Mar 2019
Getting my weekly Ramen fix. This time with Mala Gyoza. Gyozas with Mala sauce and coriander. I didn't believe it would be so good in the beginning but Bastian got to them and now I am absolutely addicted. Great ramen as always although I still have a feeling that Takumi 3 is significantly more expensive than the other two. While prices seem very similar the portions are smaller. Also, there are still no sets that you can order for a small bargain. So you have to go for big Ramen +3EUR and the side dishes start at 5,50EUR. More often than not you will leave with more than 20EUR for a quick Ramen fix. If only it wasn't that delicious... I hope that they will at least introduce sets at some point!
03 Aug 2019
After a long night with some wine and some champagne I am able to lure Alex out for breakfast at the Takumi Chicken & Veggie. Service is super slow today and it doesn't help my hunger nor my temper. Since I haven't been here for a while I go for my standard menu here. Mala Paitan Ramen with extra noodles and we share the Mala Gyoza. We're sitting outside in the sun and the ramen don't really cool us down. 😅
Still a delicious little breakfast and just the right thing to eat after a long night. Luckily the food was on point. 
15 Sep 2019
Destroyed after a long party to which I wasn't even really invited but somehow managed to be the last person leaving, Alex and I need something for our hangovers. Yes, you guessed right, it was a grand party but no pictures 😉
We decide to take the same stuff that rescued us last time, so Mala Paitan Ramen it is. With Mala Gyoza. Definitely a life saver and no waiting required. Very good place and it will be interesting to see how the second Chicken & Veggie ramen joint on Lorettostraße will turn out. I think it's opening this Saturday, actually but I am not sure if I will be able to make it over there.
Ramen lovers throw ya hands up!
22 May 2020 
---