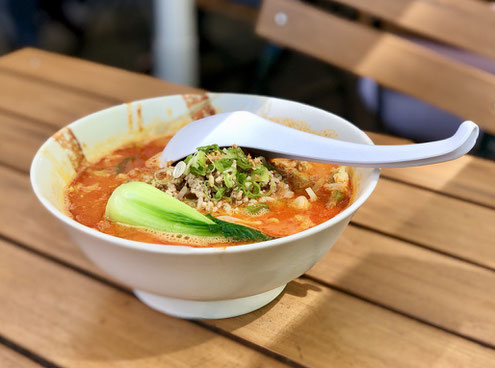 ExSum
The lines in front of the Takumi are not as long as Naniwa's but the success of this joint has produced many more restaurants by the same owner. It was established in 2007 on the Immermannstrasse and it serves Sapporo style ramen. 

In 1954 miso (soy bean paste) was used for the first time in ramen. Pork bones (otherwise chicken) are used as the foundation which are cooked for six to eight hours and they are refined with red miso paste. It's a perfect match for the cold weather in Hokkaido. But it can definitely be enjoyed during all seasons and not only on cold winter days. They provide a well-balanced seasoning and fine clarity which is sometimes missing at other ramen places. A true classic with grand authentic ramen.
06 May 2018
After what is probably literally more than 10 years I've made it to Takumi. One. When Takumi 2nd Tonkotsu opened up shop I quickly transferred to the 2nd place. I'm really not sure when that was so I might be wrong or even off by a few years but it sure feels like a decade since I've been to Takumi.
I know I've always preferred Takumi over Naniwa and that still hasn't changed. For weeks and months now I have been trying to find a sweet spot to hit Takumi without having to wait in that stupid line with their weird seating system. Düsseldorf is not New York and as I mentioned in the Bar Olio post I hate waiting in line at a restaurant which is just way too much fuss for me.
So, when I drove out that afternoon I found that they have opened their little terrace which opens at least 20 covers and it was rather empty. At least for Takumi conditions. Inside I found that they have renovated and moved a couple of things around and the smell is not as "bad" as it used to be. Still, I took a seat outside in the sun and ordered Tantan Men in order to properly benchmark. .
It is just as I remembered it. Takumi is probably still the best among all of the Brickny led Ramen restaurants. Flavors are finer and more elegant and even the noodles seem to have a better touch and are little chewier and tastier. It is still exactly what made me fall in love with Ramen so much and the dish was just on point. I love my Ramen over at 2nd Tonkotsu but the heavy garlic and extremely reduced broth with all the salt and umami flavors are sometimes too much there, even after a good long night of wine.
Sadly, I won't make it back here that often for the aforementioned reasons. The hype is real even if it's not as big as the one at Naniwa. And I deeply doubt that it is because people actually know it's the best Ramen there. It has gained cult status and is known well beyond the borders of small Düsseldorf. And not only amongst Japanese and Asians.
Wistful I took one last spoon from the soup and a last look at the tiny spot. Perfect melancholy!
03 Jun 2018
First, I haven't been at Takumi for almost a decade and now I find another spot a couple of weeks later. This time Spicy Miso signature Ramen to benchmark.
The impression stays the same that Takumi is somewhat finer and a little more complex than Takumi 2nd.
I won't that there is a real difference between the noodles but the broth certainly is different. In the end it is a matter of taste and personal preference but if I have to choose between the two I would go for Takumi.
Writing about it I am already craving Takumi 2nd again. 😂
02 Jan 2019
It's the second of January and I arrive late in the evening in Düsseldorf and crave a Ramen which was the only thing that was missing in Millstatt. Well, maybe Stefan will do something about it 😂. Finishing off a few grand days in Millstatt in Carinthia. 
14 May 2020
---