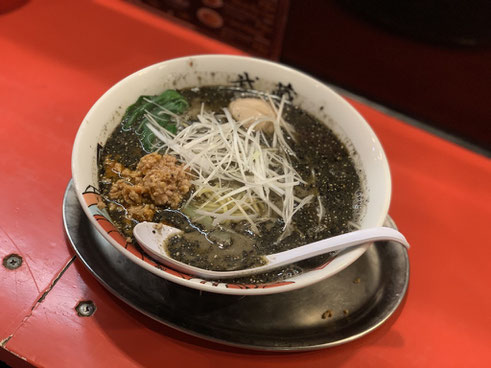 ExSum
The Takezo was pretty much neglected for quite a while being situated at the East end of the Immermannstrasse. Mind you that it found its place in 2014 and is no longer a newbie. 
According to their own website they try to preserve the original flavor of their ramen and not to serve European-influenced ramen.  While that might be true there are definitely a number of other places that also keep that promise.
Rather the extra large chashu chunks that float in your noodle soups are striking. Flavorful with a genuine style. As of now, you can hit this place when the other usual suspects are hopelessly overcrowded.  Since it is furthest away from the Oststrasse only a few people find their way to the Takezo for the time being. If you love ramen and if you are looking for some variety amongst the providers then you will find a very nice option. This is how it's supposed to be!
08 Sep 2019
As I arrive there are actually people waiting in front of the restaurant. As there are plenty of empty seats inside I decide to stay and it just takes a few minutes till I can sit down at the bar. Still irritating as this is a lesser known ramen place and I am out a little before prime time.
Since I already know what I want I just order right away and ask for ni tamago (ajitama / egg) and oomori (big portion). The restaurant itself is not beautiful by any means and might even remind you of a diner to some degree. However you can't shake that authentic Japanese feel. There are still many places left that still look exactly like this. And I am actually relieved that not every single restaurant looks like a hipster joint.
Ramen time and I get it. It was a good thing that I ordered the larger size since I am really hungry. I like the stock and the noodles. The minced meat could be spicier with more salt to it but maybe that's just my hangover speaking. The color is certainly interesting but it's mainly achieved by pouring black sesame into the stock. I love sesame but this was just too much for me. If you enjoy sesame it sure is something you should consider but the taste is so overpowering that you basically can't taste much else which makes it a little one-dimensional. Despite all their best efforts to put together a delicious Tantan Men with a little something extra. Need to return again and try something else. I should do these switches more often but I am an animal of habit. Once I get stuck on something it's hard for me to deviate. Very good ramen here, too. So if you get stuck in front of one of the other places, it's always a good idea to take a look here, too.
I shall return.
---