Pionierstrasse 21, Düsseldorf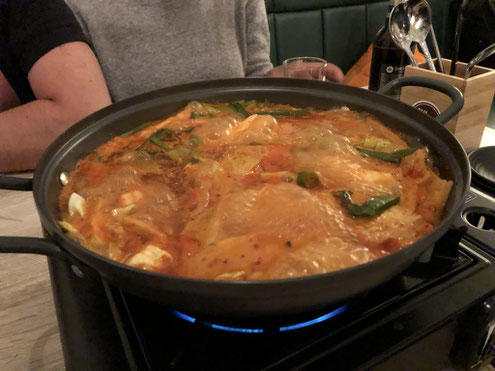 One thing I love about Düsseldorf is that while most things move at a rather comfortable pace, the gastronomy always seems to be on a sprint. It has happened more than once that I have not visited a restaurant on my bucket list because it closed before I could do so. No matter how fancy the location was, no matter how much advance praise it received. The audience can be, at times, merciless and cruel.
So, it has happened again. Before I could visit the Essbar, Olga and Daniel have decided to close their little restaurant and look for something more suitable to their needs. They haven't thrown in the towel but they have given up the location. I am excited to see what they will do next and where they pop up and hopefully I will be able to pay them a visit at their future restaurant. I am looking forward to it.
Back on topic, there is yet again a new kid in town and it is another Korean joint. There have always been numerous openings of Korean restaurants and most of the places that I remember from my childhood do not exist anymore and they have been closed a long time ago. There are only very few that have survived the last couple of decades. Oftentimes I cannot even comprehend how they have prevailed for so long but that's another story.
So SulSul it is. Alcohol alcohol for the literal translation of that peculiar looking name. The interior has not changed a lot and in that tiny space you would have to be very creative to radically change the interior concept while still maintaining enough seats to successfully run a business. The area close to the main station is subject to a lot of change recently and the ever growing Far East Asian community is playing a big role in it.
We order two different dishes as we feasted already at the Café du Sommelier but after several bottles of wine we get the food crave and trying the new joint after hearing about it just that night from Un-Young seems like a good idea. The dish that is related to your classical pork bulgogi is good while the tteokbokki disappoints. It is a draw for this night and I will have to come back for a final verdict.
---