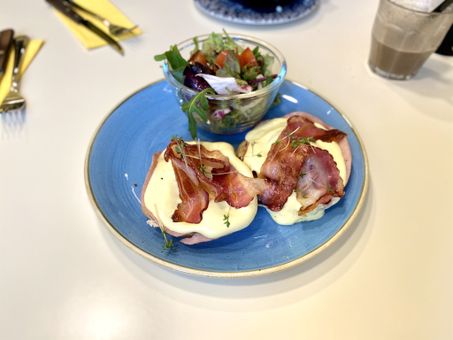 Breakfast or brunch is the new dinner. Or at least so it seems if you look at some of the new concepts that are popping up. After the disastrous experience at the Café Buur I wasn't even sure if I wanted to come here but hey, sometimes you need to give it a try. Although I am convinced that I don't have to try everything. Very often it's crystal clear that it's bullshit food.
So, here I am with Anna and we step inside. The decor seems to be polarizing people. It is very modern and stylish and you can argue for days about it. I don't think it's as bad as many people want to make and I actually could get used to it. Or at least it doesn't bother me, even when sitting inside. Even though a lot of striking colors are screaming from the walls and different patterns and lighting could make a stroboscope jealous. However, the decor rarely plays a big role for me. It's all about the food. 
Since this is a breakfast joint I need to try the eggs Benedict. I am still looking for decent ones let alone great ones. It's a lost art. When you take a look at the menu, they will explain to you that their poached eggs are in fact sous-vide eggs. Perfect eggs Benedict adios! I know why they prefer to do them this way as there is less room for anyone to fuck up the eggs. And you can prepare a certain amount ahead of time for your mise-en-place. The bad thing about sous-vide eggs is that the consistency and texture of the egg white is different than that of a real poached egg. With sous-vide everything has basically the same consistency. Ok, the yolk is liquid and the egg white is soft. Poached eggs on the other hand have a liquid core while the egg white is firm. Well, at least they warn you ahead of time.
The eggs Benedict were actually not bad. I'm not too sure about the sauce hollandaise but it had a good consistency and the bacon was crispy and tasty. Everything garnished on soft muffins as you would expect it to be. So apart from the eggs itself this wasn't a bad try. And yes, I would order those again. 
The shakshuka was a surprise. Well seasoned with a spicy kick that I wouldn't have expected in a franchise joint like this as they are mostly out to please the masses and spiciness is often a deal breaker for guests. Not here though. This was really good and I enjoyed it very much  as spices, the heat and the hearty flavor were in good balance and highly satisfying.
The pancakes at the end looked very good but only at first sight. The pancakes themselves were a tad dry and left a dusty taste in the mouth. The chocolate mousse was okay but couldn't save the weak pancakes.
All in all, it was a pleasant surprise. Most disappointing were the pancakes. The range of dishes is broad and I would actually like to taste some other items from their menu. So far, a nice job. Last time I checked, there were no ridiculously long lines in front of this place. All the wannabe hipster kids are still queuing in front of the Café Buur. So be it! Shortens waiting time in those places that are actually worth it.
---