Wallstrasse 31, Düsseldorf
+49 211 324254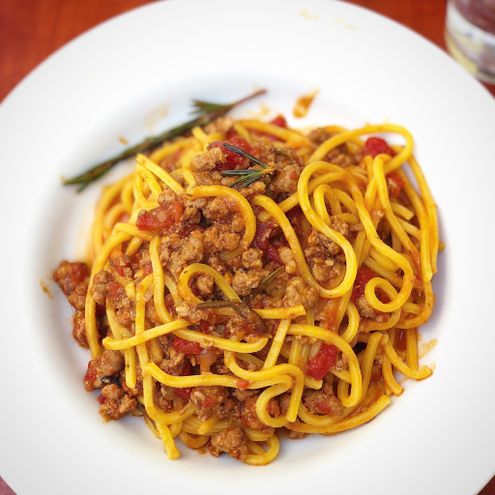 Whenever someone asks me which my favorite Italian place is, the first answer that comes to my mind is always the San Leo. Yes, even before the Antichi Sapori. Maybe just because I've known it longer. It perfectly incorporates what Italian cuisine is to me. And while we can't get most of the products in the respective quality they still manage to bring a rock solid and delicious dish to the table. At fair prices. No smokes and mirrors. No chichi.
I meet Lars for lunch and we both realize that the last time either of us has been here was when we both met there probably two years ago. Funny how we sometimes treat places that we value so much.
My choice falls on a pasta dish with veal ragù. It is tasty as ever and the pasta is perfectly al dente. If I want to nitpick I could mention that the ragù could have been reduced further until you get the sticky mass that you will receive when in Northern Italy. So yeah, it's probably not a 10 out of 10 but still as close as it sometimes gets.
Personally, I don't mind all the wannabe fancy Italians that we have around here. They're good but pricy and this place is affordable, authentic, almost rustic but everything I love about Italian cuisine. No frills, just good food!
21 Jan 2019
Sometimes one thing leads just two another or when one door closes another one opens up. My dinner with Stefania and Lars got cancelled last minute. The Nu poc' e' Napule is closed for refurbishing and Mama Lisi has no tables available. Must be the Boot fair. We postpone and agree to meet next week.
By chance "my" former executive assistant is also in town for the fair and she and her husband wanna grab something to bite before they take the train back home to Frankfurt. Since they are in the inner city area and want to have some Italian food the San Leo pops into my mind immediately. We are lucky and get a table right away. There's not much that has changed and the room is still as charming as a doctor's waiting room. To the far right you have a full view on the kitchen with some products on display in their counter which are always fresh and animating.
We share a salad and carpaccio for starters. The carpaccio is actually a little too cold and I could do without the celery on top. It's not a dish that captivates because of finesse and many components. That what is there needs to be spot on and while the parmesan cheese was good, I have mixed feelings about the carpaccio. The strozzapreti compensate for it though. The noodles are cooked on point with a magnificent tomato sauce. The fennel salsiccia is soft and tasty but adds up to the salt level in the sauce. Consequently it might be a little too well seasoned for some. For desserts I went for the zabaione with cinnamon ice cream and boy was I in for a treat. I haven't had Zabaione for a very long time because let's be honest, it's mostly crap when you order it. This was not. Fluffy, freshly whipped foam, warmed up with an ice cream core that melts into the zabaione was everything I needed at that point. You will find two more pictures of the almond parfait and the profiteroles. But I will have to applaud the chef for my fabulous dessert.
All in all a very pleasant evening again at the San Leo. Rock solid as ever and never disappointing. It also seems like that the retirement of their former chef has not hurt the restaurant one bit. Kudos!
---