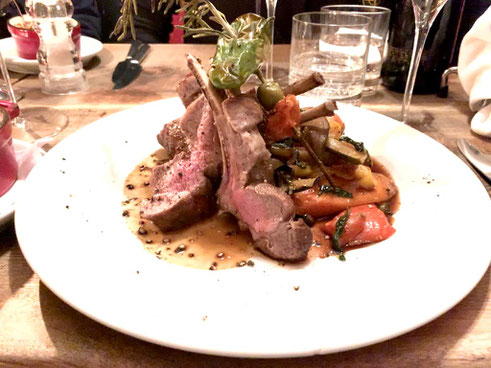 Yes, I admit it. I haven't been a huge fan of the Rocaille and I've been here only once. Very much in the beginning. While the place has always been beautiful and the patisserie by Alexandra Wende has always been spectacular, their cuisine was not back then. Luckily, Hans proposes the Rocaille to say hi to Michael Spreckelmayer and to have dinner there. Since he is no newbie when it comes to food I trust his judgment and gladly accept.
We are friendly welcomed by Michael and his staff and have the little table "Titanic" secluded from the main part of the restaurant.
To make a long story short the food is better by a long shot. We share the starters with ham, pimientos and prawns, high quality but mostly product based. Cesar salad is good but not outstanding. Hard to shine with this dish anyway. I liked the salmon tartare with a very good seasoning and good salmon product quality. The octopus is grilled on point and tender and in combination with the cauliflower a tasty experience. The rack of lamb is my personal highlight. Tender, rose with great taste and again great seasoning. The ratatouille could have been sliced into finer pieces for my personal taste but is absolutely delicious. A creamy potato gratin on the side completed the fantastic experience.
This is what the Rocaille should have been like from the beginning. In fact this is what it always was supposed to be but there were some adjustments needed. Fortunately, they have made the adjustments and turned the Rocaille to a wonderful place in Düsseldorf where you can enjoy a great atmosphere, delicious food, grand wines and outstanding pâtisserie. Kudos!
After stuffing up an our meals we were not able to have dessert. Even though I claim that sweet goes into another stomach but I can't. I'm done. We are done and we finish our bottles, full, satisfied, happy.
Thank you, Hans for the invitation! And thanks to the whole crew at the Rocaille for a memorable evening!
---