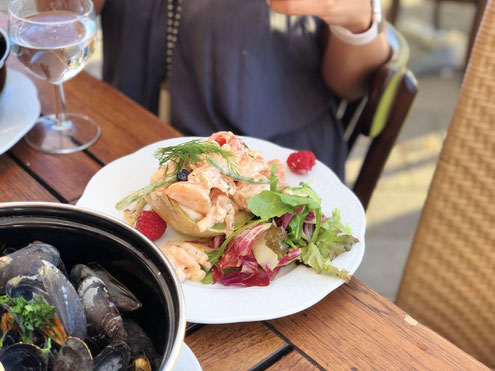 It has happened again. Robert opened yet another restaurant and it is located right on the Rhine boardwalk. He has opened or advised so many restaurants and his first location the Robert's Bistro is famous and packed to date. Humongously successful for decades. So, naturally I am curious when I hear that he is opening another spot. The location is prime and the esplanade desperately needs a decent restaurant where you can get more than just your tourist food and franchise junk.
After a day in the sun, Jasmin, Linus and I decide to check the new kid town and see what it's good for. We order a round of appetizers and share two main dishes. Well, appetizers is an understatement.
We order Moules et frites, octopus, a summer melon salad, pasta with salsiccia and beans, crevettes rosés.
All in all very satisfying. It probably lacks a little in structure and is not as refined as Hülsmann's but still very good. The salad did not ignite enthusiasm although I don't think it was that bad. The mussles were good but the broth could have had more intensity and cooking as well as some salt. The pasta dish with flageolet and green beans was surprisingly good and delicious.
Unfortunately the wine list needs a serious makeover. While I understand that not everyone in the world is willing and able to pay a lot of money for wine, the wines here are really weak and are a disgrace for the well cooked dishes they offer. I recommend to bring your own bottle. From what I have heard there is a small corkage and it makes more sense that way.
I like the Robert even though it is probably not a location that I would head for on purpose but it is an absolute enrichment for the esplanade and finally a decent place to have some food and a good look on the Rhine river.
Thank you for the invitation, Linus!
22 Mar 2019
Dine & Dash at the Robert. Heard many good things again, so I thought I'd give it a shot for lunch. I went for classic fish & chips while Lars picked les coquilles St. Jacques. .
Great service and everything was fine, so I might give it another shot for a full fledged dinner. Crispy panade and a perfectly cured fish. The chips are fantastic while the mayonnaise could need more punch. Not a big fan of the Heinz HB sauce for the fish and I would have much preferred a homemade remoulade. The other dish looked and the sauce was delicious with crustacean flavors and proper depth.
Will take a closer look again.
01 Jun 2019
Quick and spontaneous dinner with Iris at the Robert. I'm still hanging out with Newton and we want something to eat close to the Rhine river. The Robert. is basically the only option. As we entered we are friendly welcomed by staff and when Robert Hülsmann the man himself sees my dog he asks if Newton can have a marrowbone. Who am I to deny my little companion such a treat? .
We sit down at the terrace and after studying the menu for a long time we both opt for fish. Codfish with veggies and potato gratin and salmon with rocket, beetroot and strawberries. Both fish are on point and while the pictures might look a bit boring, the dishes were not. Good seasoning and a nice harmony of aromas dancing around on your tongue. The whole composition makes sense and the plate is in a nice balance, so that none of the aromas overpower any of the others. Good job! I have to admit that I had trouble with this place in the beginning but it's becoming better and better. Which is in fact a good thing as we finally have a restaurant at the inner city Rheinpromenade where you can actually eat.
Kudos Robert!
---