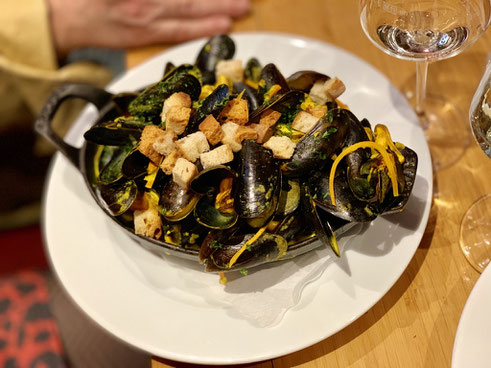 For the first time ever I am at Robert's Bistro. Kind of a shame thinking about how long I've lived here. It's not only a bistro but more of an institution here. But I hate queues. Düsseldorf is not New York. Or any other Mega City for that matter. And while it makes sense business-wise not to accept any reservations it has prevented me from coming here.
So, here we are. Curd, Nadine and Ingo to get our prep meal before a birthday party. The mussels were very good with a nice stock and lots of garlic (good thing). The tartare was also good and well seasoned. I had the venison and as you can see from the picture the sauce is drying up on the surface and the oil is clearly separating itself on the rim. Additionally, the sauce was reduced heavily which led to the fact that it was oversalted and destroyed the overall balance of the dish. The vegetables were okay and the venison was good but a bad sauce is nothing I will return because I won't get anything out of it. You cannot rescue the sauce. But since we weren't asked anyhow I didn't need to feedback.
The toast with the poached egg was ok and the fish I didn't try. All in all it wasn't a bad experience but I had higher expectations for a cult location like this. However, I might be wrong and I can't judge on a single experience like this. I will come back again and see what's what.
---