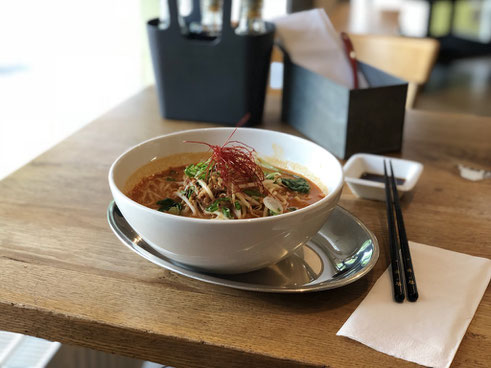 ExSum
Way off the so called "Little Tokyo" of Düsseldorf you can find the Rika. It used to be called Café Rika which was irritating as it always has been more than just a café. The restaurant or bistro serves a small selection of Japanese dishes and is not solely specialized on ramen. Thus there are only four different types you can choose from. 
I like the ramen here and they are stylistically very different from the other ones you can get. The head chef is a former employee of the Takumi but has adapted the recipe so that the ramen appear to be finer and more elegant but at the same time they also lose some depth. Nevertheless they are fresh and well prepared. The restaurant itself is spacious and there is almost always room for additional guests. It's a pity that only "a few" people find their way to this place as the restaurant itself is probably the hippest of them all. You could even imagine this place in Berlin. The selection is small but holds some nice dishes if you refrain from the fried rice options.
16 Mar 2019
It is probably the worst night to try and find something decent to eat when it's ProWein Saturday but Theresa dropped by to visit and I want to show her some Japanese food. The inner city ones are completely booked and don't accept any walk-ins anymore, so I suggest the Café Rika as it is a little outside of town and the chances to get something here is significantly higher. We are lucky indeed and can even choose between a couple of tables and order a round of inside out avocado rolls, gyoza and while I have the Tantan Men ramen, my guest decides on chicken with rice.
It's not top notch here but the service is friendly, prices are fair and I like the alternative interior. The rice dishes however seem a bit un-Japanese. May it be. The Café Rika has been around for quite some time now and I'm sure that they will continue to have more success as they deliver decent quality for a fair buck.
And if you ever get tired of Takumi (hardly possible I know) it is an option to try and get a different ramen for a change.
---