Berliner Allee 52, Düsseldorf
(inside the EDEKA Zurheide, CROWN)
+49 211 2005716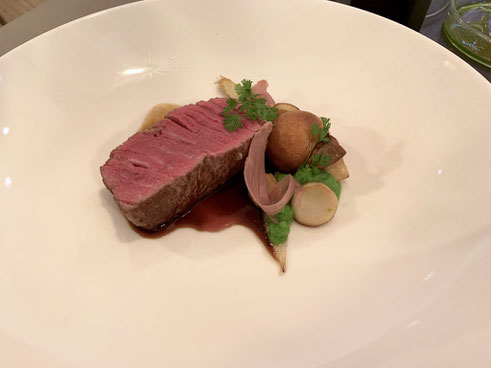 Spontaneous dinner at the Setzkasten. Jasmin and Linus have been going crazy about this place ever since they got here for the first time, so naturally it got me curious.
It is Tour de Menu time in Düsseldorf again and so Zonk and I quickly decide on the special menu.
I have passed the restaurant a couple of times now as it is located inside the EDEKA Zurheide in the basement. They have done a good job on the interior as it feels modern and cozy with a clever table concept around the center seating area. You don't have the feeling to be actually in the basement while the view outside into the supermarket feels a bit funky and has the vibe of standing inside a duty free shop at the airport. Surreal.
Food wise, Jasmin and Linus have not been exaggerating. It is delicious and very well made. Good sense of creativity and a well rounded complexity and finesse on the plate that will have acidity and sometimes sweetness dancing on your tongue. A palate pleaser. I love steaks but normally they do not tend to surprise me but this piece of Nebraska Prime filet got me dancing all night long. Best piece of meat that I've had in a while. Some minor flaws here and there, so there is still room for improvement but make no mistake, this place is definitely headed for a star. If not, all the better. Prices are outrageously fair. Oh and you can order any wine from their vast wine list in the supermarket with a corkage of 15€. Deal!
Fabulous job at the Setzkasten! Thank you, guys! It's been a pleasure!
25 May 2019
Fantastic evening with Nadine, Ingo, Olivier and Hans at the Chef's table.
Thank you, Anton Pahl and Egor Hopp for a grand evening! It started very strong and went on and on and on. And it all eventually climaxed in a firework of desserts by Egor. Grand job! Fair prices, a hospitable service crew and a course set to the stars.
While it is still obscure to actually sit in a supermarket and being escorted out at 22:30h, the food certainly justifies taking a closer look at this place. If you haven't been here you should definitely drop by and pay them a visit. I'm sure you won't regret it.
Thank you everyone involved!
---