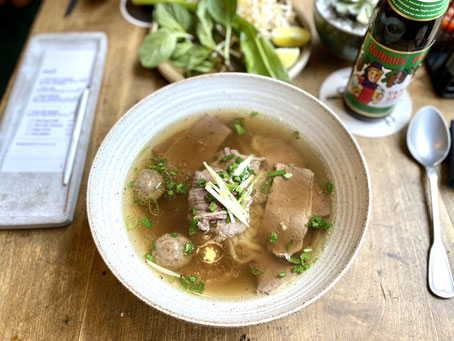 This place was recommended by an old Wing Tsjun mate and he claimed that it's the best pho and that his buddy is a nerd when it comes to Phó. Well, ok. Since it's quite central and I can't say no to Phó, I'm giving it a shot. One day before Christmas Alex and I have lunch together just to see what's what.
I like the way the place looks from the outside already. A big sign over the door right in the middle of two large windows will lead the way and leaves no room for error. The decor is very sleek, simplistic and modern but it's not clinic.
The menu is very overseeable which is fine with me and we order Phó with a summer roll as an appetizer. 
My, my! The summer roll is probably the best that I have ever had and gives me high hopes for what will come next. It's super fresh and the prawns are cooked to perfection. A well-balanced mix of salads and sauces inside and very nicely rolled into a tight but not overly firm summer roll. Delicious! The Phó nex then. While I ordered the regular beef based Phó, Alex has decided to give the vegan option a shot. I like my stock but somehow long for some different seasoning. It's very, very good and tasty but it somehow reminds me too much of a rather European beef bouillon. I can't put my finger on it but for me it needed some different herbs and spices. The meat on top was cooked to perfection and of high quality. This is high end. I don't care much for those meat balls but the brisket and the loin was beef heaven. Of course, I tried the vegan stock, too and I was pleasantly surprised. Lots of flavor and a complexity that I wouldn't have expected. A mushroom and veggie stock with shiitake, king oyster mushrooms, tofu, radish, carrots and fresh herbs. Well-seasoned and perfect if you're looking for a meat-less option. I will have to come back. It is definitely delicious and an alternative to Kim Phi and now I don't have to drive out all the way to get my Phó fix.
Good job! I am definitely keeping an eye on this one.
05 Sep 2020
---