Schadowstrasse 11, Düsseldorf
(inside the Schadow Arkaden)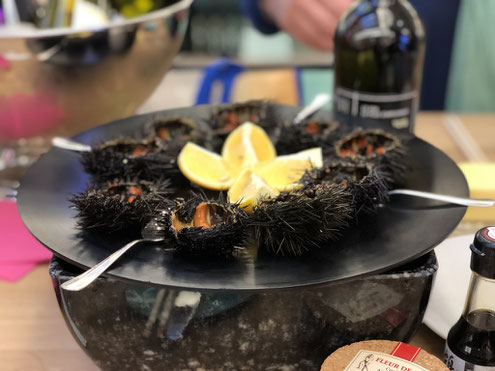 Seafood festival at Patrick's Seafood No 1 in Düsseldorf
When patron Patrick closed his restaurant at the Medienhafen in Düsseldorf many people were shocked and felt robbed of what was probably one of the best places to have fish and seafood in the city. Right at the heart of the Medienhafen this restaurant was hidden in plain sight but it had many friends and fans. Thus the gap it left in Düsseldorf for aquatic delicacies was huge.
Those who know Patrick know that despite his age he is still full of energy and that a life beyond restaurants, food and hard work just is not meant for him.
So many of the regulars were relieved to hear that he was opening up again but this time right in the center of the city at the Schadow Arkaden.
I have to admit that when I first heard about it, I was skeptical. I just couldn't imagine an oyster bar concept down in the cellar-like atmosphere of the food court at the Schadow Arkaden. I was quite relieved then when I heard that the location was never planned to be in the basement but rather right across Anson's in the main hallway where the info stand, that hardly anyone ever frequented, was located. Peculiar place. But so much fresh quality in such a tiny space. .
You enter the Schadow Arkaden from the main entrance und about 30m into the mall you will find that little island of  seafood awesomeness. The stand is small and looks modern and clean with pretty turquoise tilework to bring at least a little French feel to the mall. I like the massive wood table at the very end of the artificial terrace and from here you can have a good look at all the people passing by. They probably stare as much at you as you do at them, as you are sitting there having wine and fantastic Coquille St. Jacques, snow crabs and wine, of course. Yet it's still like being at the zoo and having a look outside of the aquarium and watch the people. I can assure you it is delightfully entertaining.
We enjoyed a great late morning with seafood deluxe and wines by Oli. Great service as always by patron Patrick and his son David. If you love seafood you will love Patrick's! Merci beaucoup et à bientôt!
29 Sep 2018
Meeting with a round of friends at Patrick's is always a treat. Great seafood and people to watch.
09 Dec 2018
Get together on a Sunday with Olivier and friends. Thank you Oli, Patrick and David! Fun day at the Schadow Arkaden.
---