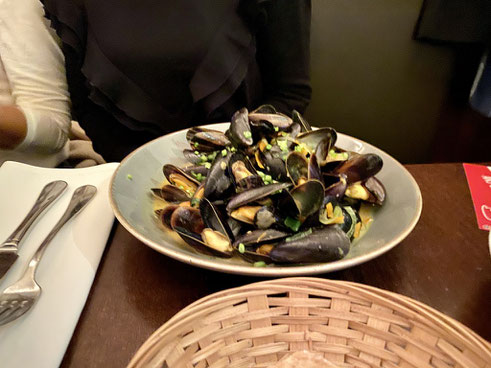 Undoubtedly still the most beautiful ceiling in Düsseldorf and I'm relieved to see that the food is still as good as I remember. It is a cozy little restaurant almost at the heart of Düsseldorf. The street name Alte Stadt (Old City) is referring to the former historic center of Düsseldorf and is probably the oldest street. Located just off the lively Ratinger Strasse, it is a restaurant like you would find in a calmer neighborhood of Paris. The name of the restaurant stems from the combination of Paris and Berlin, thus Parlin. Truly a romantic place with a small terrace outside front where you can look down the street and enjoy some wines in summer. The wine selection is extensive and I am convinced that everyone will find something to drink on there.
We select a wide variety of dishes and I go for the Merguez with chickpea puree and mint couscous salad. The merguez is salty but so delicious and well seasoned. Everything is on point and in perfect harmony. I hear no complaints about the other dishes, so I guess it must've been a good dinner overall. Wondering again why it has taken me so long to get here again. 
For many years it held the accolade "Bib Gourmand" from the Guide Michelin until it lost it in 2018. Not exactly sure why that happened but maybe the guys over there are just smarter than me. Nevertheless a beautiful place with very good food and a nice wine selection. Perfect for a rendezvous to spend a romantic evening and enjoy life. I would always come back here. 
---