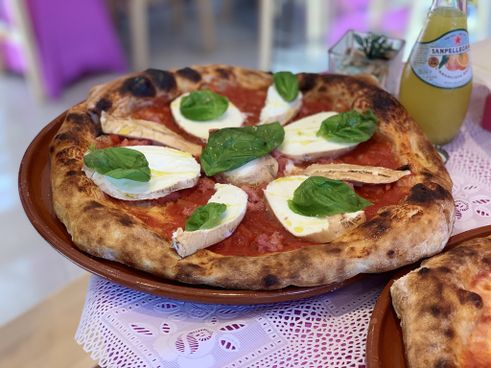 Hard to say why Lars finds these places first but he is even closer to the pulse than I am. He has heard about this place in Gerresheim and that they serve Neapolitan style pizza but different than the one from nineOfive. While also maintaining a high product quality. I am immediately hooked and we set up a lunch date for the Nu poc' e' Napule.
From the outside and when you enter there is little indication that you can actually have a pizza here. The large room is a every girl's dream in purple and pink. The main reason for that is that Francesca Lerro set the place up as her Pasticceria. The pizza joined forces just a couple of months ago.
Do not be fooled! What you will get on your table here is some of the finest pizza I have had. Excellent products, proper know-how and a portion of love will present you an authentic Neapolitan pizza that is simply delicious. When you love pizza you just have to try this!
Two of the sweetest people in Düsseldorf and perfect hosts! Much love and lots of success to Francesca e Alessandro!
07 Dec 2018
Just one week after my first visit I needed to come back and showed Fabian and Hans what this place is all about. .
Once again we were welcomed very friendly by Francesca and Alessandro! You're way too kind!
Fabulous pizza and lasagna.
If you haven't been here, you need to check it out. It's worth the trip!
13 Jan 2019
It's Sunday and I am on my way to my godchild but I haven't had anything for breakfast or lunch yet. Since it's been a while I had my last pizza at the Nu poc' e' Napule it is quickly decided and I drive up to Gerresheim to see if the place is still in check.
When I arrive there's only Alessandro at the pasticceria and I order a Diavola. I can't get myself to order a pizza bianca since I am always missing the tomato sauce then. A cappuccino and a pizza later, I pack a couple of little sweets, too. Very casually, I hear about the plans to refurnish the place in order to get some tables inside, so that the pizza will receive more recognition. I am looking forward to the changes and will see how it all turns out. The pizza won't change, so if I am willing to come here to eat standing, I sure as hell will be coming here to eat sitting on my ass.
Great stuff as always!
05 Feb 2019
Finally we are able to meet here. Stefania Lettini and Lars and talk some business.
Unfortunately the new tables and chairs have not arrived yet at the Nu poc' e' Napule but renovations are finished. They have lost the big photo wallpaper on the right. It has switched sides and has been replaced by a slate-look brick facing and the colorful pink and purple have made way for white color. The renovation has not stopped in front of the counter but the back has also received the same look and the certificates have gone.
Some of the quirky allure has vanished with the old interior but all in all I think it's been good measures.
The pizza is off the charts as always and now we will have to wait and see what the furniture will look like and fit into the restaurant. But no matter what, the pizza is almost unparalleled here and Francesca and Alessandro cannot be replaced.
09 Apr 2019
Getting my pizza fix with Petra.
Haven't been here for a while but now I can see all the tables. Makes it more comfortable to have a pizza here. Personally, I could've done with one or two fewer tables but I don't wanna complain. More importantly the quality is still the same. .
There are new menus with more pizza creations. Again, personally I don't need all the creative style pizzas. But then again I am a pretty conservative guy sometimes. Particularly when it comes to traditional food. New placemats and a lot of communication about what they do and how they do it. Even though the quality and taste speaks for itself, it's actually nice to read some more about it and get a deeper understanding of the craftsmanship and the products they use. .
Still lovin' it! Pizza fans get your asses out here.
28 Apr 2019
Hangover time with Theresa. She suggested pizza, so I thought the NPN might be the right address. After my experiment last time I have the Diavola again. Plain and simple with spicy pepperoni. O'Re: Extra mozzarella cheese, parmesan, cherry tomatoes and rocket salad. The little cone thing was an arancino filled with ragú which could have needed an extra kick and more seasoning and spices. The pizzas on top of the counter looked fantastic also and they can be bought in slices.
Oh how wonderful pizza can be! And yes it is that damn good. If I drive all the way across town for a pizza then it better be damn good. 😂😉
15 May 2020
---