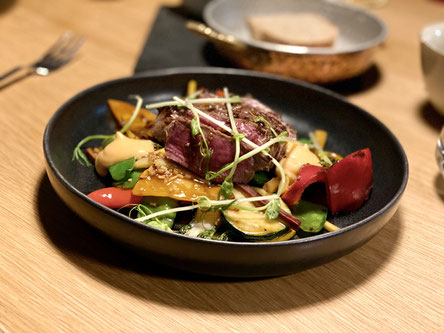 Hitting up a new spot. After the D'Vine closed down chef Murat Avcioglu was looking to realize his own dream and open his own place. So he did rather quick and right in the neighborhood of the old D'Vine. If I remember correctly the venue that he found used to be an Imbiss. Awesome job on the interior. Coloring is dark and the style is clean yet cozy. It has just about the right number of places and fills up very quickly. And although the marketing machinery was pretty quiet on the opening of the Noa Foodbar it seems to be very well frequented. The menu changes every other week and you will find all sorts of dishes with influences from all over the world. Murat has always been very creative and his dishes are tasty and very well worked out. I was missing a little salt here and there but overall quality is very high. Definite recommendation and I will come back. The Noa Foodbar is an enrichment to Düsseldorf's culinary scene and I wish Murat and his staff all the best for the future. I hope that business will continue and that this little restaurant will prosper. Another sidenote there's even a small selection of wines that is neatly matched to the dishes served. So everything is well prepared to spend a very nice evening right there in Unterbilk. Check it out!
22 Sep 2018
Hans is in town which is always a reasons bring some bottles somewhere and have good food. I recommended the Noa as for a small corkage fee we can bring bottles and have some delicious food. Very illustrious round with Fabian and Timo.
Thank you everyone! We had a few good laughs and a very nice evening. Top service by Marcel and somehow the oxtail Tunke (dip) beats it all, always. Although the Backhendl was fabulous, too.
If you haven't been here I strongly recommend this little place near Bilker Kirche in Unterbilk. Especially if you live there somewhere. And say hi to Murat from me.
21 Dec 2018
Dinner date with Petra at Murat's place. Petra is taking a break from her stressful life. The Don Melone is closed for the next couple of weeks and something like free time sneaks back into her life. Since I usually only see her in her cafe, we only get to talk in between guests and chores. So, I am happy she has taken her time to dine with me just before Christmas starts.
We are both hungry and cut across the whole menu. We start with the homemade bread and ox tail dip and baba ghanoush and some sashimi. Well, the ox tail dip is a must every time. And now I have to (secretly) admit that the kale and carrot salad with puffed quinoa and roasted hazelnuts was delicious beyond belief. Fantastic creation with a finger-lickin' good dressing. The kale is fried and adds a crispy texture to the dish while you can chew on the puffed quinoa with the crisp carrot. Superb mouth feel and many different flavors to discover every time you take a fork. Thank your for making me taste it, Petra!
It will probably not make me happy as a meal but if you should ever see it again on the menu, give it a try. I am pretty sure you will not regret it. Our main courses are the Pasta piri piri with anchovies and duck breast. I finish myself off with some mousse at the end even though I am more than full. But it's just too good.
Sad and good thing is, people have noticed that Murat is doing a grand job here. The place is packed. You could argue that in the weeks before Christmas every single restaurant is pretty much filled but I have a feeling that this is sustainable for the future. Hats off to you, Murat and the whole Noa Foodbar team!
10 Jan 2019
Quick check-in at the Noa Foodbar with Pascha. The freak from "The Taste" (Sat.1) rings me up and after we meet a couple of people at the nineOfive we decide to grab a coffee at Murat's place.
Pascha had a pizza at the nineOfive whereas I had already eaten just shortly before. Some time has passed and I spot the Udon salad with roastbeef tataki and green chilis and I can't resist. Even though I wasn't really hungry.
Wow! Well, you may call it a salad because it's lukewarm but it feels more like a proper Udon dish even without a miso based stock. Quality and quantity of the tataki alone more than justifies the slender 14€. For the nori leaves I would have preferred the roasted and oiled version but that's probably because I could bathe in that stuff. Utterly delicious! Competent and friendly service as always by Marcel Kühnemund.
Yet another showcase that a good dish can be so simple sometimes. I'm not trying to take away from Murat's accomplishments but this dish is not complicated but so delightful. No wonder the place is packed on a regular Wednesday night. Superb job!
07 Mar 2019
Isabel is in town and she wants to try something new in Düsseldorf. Not very complicated as she hasn't been to too many places here. I suggest the Noa Foodbar as it's comfortable and uncomplicated with good food and even a small wine selection.
The ox tail dip is back and we order the forest mushrooms in balsamico sauce and the empanadas. The mushrooms were extremely good and delicious and I'm not even a mushroom fun. Earthy with good seasoning, depth in the sauce and a vivacious acidity through the balsamico. Highly enjoyable. The empanadas are good but they are empanadas. The ratio of dough to filling is high which takes away from the delicious chili con carne type filling. Overall still delicious. The ox tail dip is a must anyway.
Good job as always, Murat and Marcel!
06 Jul 2019
So, Rebecca hit me up for dinner in Düsseldorf and one of the first options that came to my mind was the Noa Foodbar. I haven't seen Murat in a while and decide that it's a good occasion to drop by, have some good food and see what's what. It's the second to last menu rotation and we go for a couple of dishes to share. Filled eggplant, grilled water melon, octopus with nori churros and tempura fried peppers.
Needless to say Murat did an outstanding job. As always I might add. Summery dishes with lots of flavor. I love anything that's tempura fried and the churros that are powdered with nori are delicious and work well with the octopus. The color of the churros is a little distracting at first but when you get to taste it it makes sense. I have tried to grill water melon in the past and I've miserably failed but this was outstanding. The freshness of the cucumber with the grilled water melon worked perfectly together. The stuffed eggplant was maybe the tastiest dish of them all. Too bad it's not part of the menu anymore. I would have that again right away.
I probably won't make it for the current menu although there are some classic dishes on it that I would have loved to try. We need to talk, Murat 😉
09 Oct 2019
A little unplanned visit to Murat. After having a coffee over at Covent Garden with Petra I decide to tag along for the Noa Foodbar. We kick it off with the homemade sourdough bread with Obazda. What you can see is beef filet tataki, arancino and köfte.
Don't wanna lose too many words today. The new menu is once again on point and everything is exceptionally delicious even if the lamb köfte could have had less salt. But a fantastic combination with fresh dates, BBQ eggplant, bulgur and baharat. My tataki was perfect and paired nicely with veggies and ginger. The arancino with mushrooms is creamy and soft on the inside with a crunch to the crust. Simply delicious! While business is going well here, I can't shake the feeling that the Noa Foodbar is still underrated. Better yet for me. Easier to still get a spot spontaneously although it has become increasingly hard at the weekends.
Keep up the good work! Just a lovely place with great food and a nice little selection of wines.
09 Nov 2019
The first day of the Wein Herbst at the Interconti is over and after a long day at the wine fair with Alex Loersch we wanna grab something nice to bite. Since we wanna have some wine, too, the Noa Foodbar immediately comes to mind.
• Breaded fried chicken (Backhendl), potato tortilla, oyster mushroom cole slaw
• Codfish, beluga lentils, carrot pearls, curry
• Beetroot risotto, brussel sprout leaves, pumpkin seeds, gaperon cheese
• Housemade sourdough bread with ox tail dip
All paired with a 🇩🇪 2007 Kanzemer Altenberg 1. Gewächs Spätlese by Von Othegraven.
The food was delicious as always. The only critique I might have that sometimes the salt adds up in the mouth to the point where you can't ignore the salt level anymore. Apart from that everything is cured on point with fresh ingredients and crisp vegetables coming together in well-balanced dishes with sometimes a tad spiciness. All beautifully presented in a relaxed atmosphere which makes coming here always a great pleasure. Thank you for taking the bill, Alex!
And as always, great job to Murat and his team!
06 Dez 2019
Spontaneous visit at the Noa Foodbar and Petra and I head over for a nice dinner and a couple of glasses. Winter menu with chestnut soup, homemade bread with ox tail dip (sorry, I can't resist), gnocchi with pistachio pesto and pecorino, pics con ragú. At least from what I remember. Fantastic food as always and I was stuffed beyond limits. It turned out that it was going to be a long night. Thanks to Murat and Dat-Chi and all the players and playettes that were part of this night. Unexpected but fabulous. Basically the best nights you can have. And it's not just because of experiences like this that the Noa Foodbar has become one of my favorite (if not the) places to be.
Thank you everyone! A memorable experience!
01 Feb 2020
01 Jul 2020
11 Aug 2020
14 Aug 2020
---