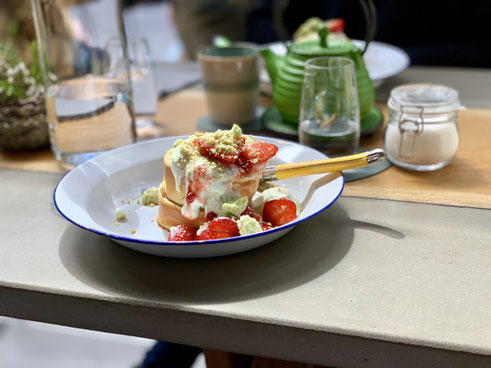 It's catch-up time with Fabienne and I decide that keep our plan to go to the NeoBiota for brunch. The restaurant was just rewarded their first Michelin star. It's a double concept as they have a fabulous breakfast to lunch service and the Michelin starred cuisine in the evening. Both in one house but divided in concepts.
The place is located centrally in Cologne but in a quiet side street. With large windows it is a bright, light-flooded room with an open kitchen right behind the bar. All dishes are very fairly priced and even a regular visit won't ruin you. Fabienne and I opt for the 3-course menu for 25€ and all the courses are freely selectable. I go for the salmon sandwich, Shakshuka and the pancakes. All comes highly recommended by Fabienne.
My only criticism would be that my egg yolk was well done when it came in my hot pan. Happens. Could have returned it but I didn't, so it's on me. I loved the sandwich which is unfortunately no longer on the menu. And the pancakes were just heavenly. I was reluctant at first to even order them as I am not a huge fan of pancakes. But these have got to be the best pancakes I have ever had. And it just tastes as obscene as it looks. With woodruff creme, strawberry madness and cookie crumbs it all made a fantastic composition. The pancakes themselves were just fluffy and soft and tasted divine. So, if you come here you have to try them. You won't regret it.
Lovely visit with a friendly crew and I can't wait to come back. Even if Cologne is on the wrong side of the Rhine ;) Recommending this place is a no-brainer, of course. Then again I am not revealing any secrets when presenting a Michelin star restaurant.
---